Plan B's Problem With Heavier Women Isn't News in Europe
by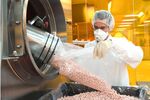 When Teva Pharmaceuticals gained exclusive rights from the Food and Drug Administration to market Plan B One-Step as an over-the-counter emergency contraceptive for "all women of child-bearing potential" this year, advocates considered it a victory for reproductive rights. But a new labeling change for an identical drug in Europe now raises the prospect that the treatment may not work for women weighing more than 165 pounds.
The FDA is currently reviewing the research into the European drug, Norlevo, but if its U.S. counterpart also loses efficacy for heavier women it would come as a significant challenge. The average weight among women ages 20 and older is 166.2 pounds, according to the Centers for Disease Control and Prevention (PDF). About 60 percent of women in the U.S. are overweight, of which more than one-third are obese.
HRA Parma, which manufactures Norlevo, began looking into the effect of weight on the drug last year after research in 2011 found that morning after pills using levonorgestrel—the same hormone in pills like Plan B—did not work well for women with higher body mass indexes. Teva and the FDA did not respond to questions about whether they were aware of this research. Plan B claims to prevents about seven out of eight expected pregnancies, according to the drug's website.
Based on its own findings, HRA Pharma will add this statement to the labeling on Norlevo: "In clinical trials, contraceptive efficacy was reduced in women weighing 75 kg or more and levonorgestrel was not effective in women who weighed more than 80 kg." That means Norlevo is less effective for women weighing 165 pounds or more, and not effective for those weighing above 176 pounds. All Norlevo packages should have the revised labels next year, and leaflets in boxes will discourage women who weigh 75 kilograms or more from using Norlevo, reported Mother Jones.
"The FDA is currently reviewing the available and related scientific information on this issue, including the publication upon which the Norlevo labeling change was based," said FDA spokeswoman Erica Jefferson said in an email. "The agency will then determine what, if any, labeling changes to approved emergency contraceptives are warranted."
Teva Pharmaceuticals, the maker of Plan B, declined to comment on any discussions it may be having with the FDA, and spokeswoman Denise Bradley wrote in an e-mail: "The data submitted in Europe to support the label change on Norlevo is HRA Pharma's proprietary information, and as such, we have not had the opportunity to review it and cannot provide comment on that data at this time."
Before it's here, it's on the Bloomberg Terminal.
LEARN MORE