Plague Inc. App Thrills Gamers and Public Health Officials Alike
Plague Inc.'s contagion app thrills gamers—and the CDC
By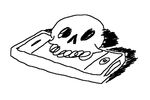 The disease didn't look like a killer. The symptoms were coughs and sneezes, and its spread attracted little notice. Then someone with the virus got on a plane, launching its journey around the globe. Sneezes gave way to fatal hemorrhages; thousands of infected turned into millions. The virus mutated and developed drug resistance. Soon it wiped out the human race. For players of the mobile game Plague Inc., that counts as a win.
The object of the game, available for 99¢ on iPhone, iPad, and Android, is to create an infectious disease that kills as many people as possible. Players exploit countries' vulnerabilities—climate, population density, poverty—to help the disease spread before a cure is discovered. James Vaughan, the game's creator, designed it around actual risks such as antibiotic resistance.
With more than 15 million downloads since its release last year, Vaughan's creation has captured the attention of gamers and public health officials alike. The latter see Plague Inc. as a tool to raise awareness of real-world pandemic risks at a time when research is under pressure. "Right now there's a dire funding crunch for science in the U.S.," says W. Ian Lipkin, director of Columbia University's Center for Infection and Immunity. The U.S. National Institutes of Health was required to cut 5 percent, or $1.55 billion, from its fiscal 2013 operating budget. "Games like this reach people who don't think about the importance of science," Lipkin says.
In March the U.S. Centers for Disease Control and Prevention invited Vaughan to speak to researchers in Atlanta and agreed to let its name appear in the game's mock news alerts. For example, a text bubble may pop up saying that the CDC has identified the first case of a disease in humans. "We think everyone can learn from this," says Dave Daigle, a CDC spokesman. "Public health is one of those things very few of us know about unless something goes wrong."
The agency has tried before to reach younger people via social media. It built its own iPad game this year, called Solve the Outbreak, where "disease detectives" win by finding the cause of infections based on real outbreaks that the CDC has investigated. In 2011 the agency posted to its Public Health Matters blog a tongue-in-cheek primer on how to cope in the event of a zombie apocalypse. Daigle says kids unenthusiastic about prepping for a hurricane or tornado were happy to remind their parents to stock up on water, food, medicine, and other supplies to survive an onslaught of the undead.
Plague Inc. has the same appeal, says Vaughan, 26, who isn't an epidemiologist and didn't build the game with education in mind. While a consultant for Accenture in London, he sought a creative side project. He spent less than $5,000 developing the game over the course of a year, collaborating with contractors for the programming, art, and sound. Now "I get e-mails and tweets and Facebook messages from people teaching 11-year-olds all the way up to people doing Ph.D.s in infectious disease," he says. "Parents are sending me messages saying, 'Little Timmy was just asking where Bolivia is and he wants to know what climate it's got. He's never shown any interest in geography before.'"
BOTTOM LINE -
The bottom line: Plague Inc. is a hit with gamers and public health officials, who see it as a tool to raise awareness about pandemics.
Before it's here, it's on the Bloomberg Terminal.
LEARN MORE