Obamacare's Small Business Site Won't Work for Another Year
By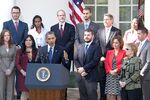 The piece of healthcare.gov meant for small businesses won't work for an additional year, the White House admitted today. The administration is sending small businesses to insurance agents and brokers for the next year to buy health insurance.
The Small Business Health Options Program (SHOP), intended to give companies with less than 50 employees an easy way to compare and buy health plans online, has been mired in delays. After initially planning the SHOP launch for Oct. 1, the Obama administration postponed it until November. Last month it set Nov. 30 as its precise deadline. Now the administration says it will be ready by November 2014.
"We've concluded that we can best serve small employers by continuing this offline process while we concentrate on both creating a smoothly functioning online experience in the SHOP marketplace," the administration said, according to an internal document outlining the new enrollment process that was provided to Bloomberg Businessweek. An official at the U.S. Department of Health and Human Services confirmed the delay.
The change applies only to the federal health exchange. States that built their own small business marketplaces are unaffected by today's announcement.
Instead of purchasing through the site, small businesses will enroll through agents, brokers, or directly with insurance carriers, sending in their applications through old-fashioned mail. They can still use the healthcare.gov site to find information about plans; improvements to make comparison shopping on the site easier are planned for Dec. 1, according to HHS. Eligible employers can still get the tax credit for providing insurance, even if they enroll directly in 2014.
The Obama administration's Thanksgiving-eve announcement isn't unexpected. But the year-long delay signals that some of the promised fixes to healthcare.gov will take much longer than the administration said they would, even a month ago.
Before it's here, it's on the Bloomberg Terminal.
LEARN MORE