Murray Goulburn's $484 Million Warrnambool Bid Tops Rivals
Elisabeth Behrmann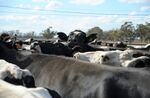 Murray Goulburn Cooperative Co., Australia's biggest milk processor, raised its takeover offer for Warrnambool Cheese & Butter Factory Co., valuing it at A$533 million ($484 million) and topping two rival bids.
Murray Goulburn, which needs Australian regulator approval for its bid, boosted its offer by 5.6 percent to A$9.50 a share, the Melbourne-based dairy co-operative said today in a statement, beating Saputo Inc.'s recommended A$9.20 conditional offer and a cash and share offer from Bega Cheese Ltd.
"The price is getting beyond silly," Mark Topy, a Melbourne-based analyst at Canaccord Genuity Corp., said by phone. "Murray Goulburn's farmers should be asking them questions about buying assets where they'll never be able to get a justifiable return on these assets."
The three-way contest for 125-year-old Warrnambool, based near the town in Victoria that bears its name, has more than doubled its market value in the two months since Bega, its largest shareholder, made an initial offer. Bidders are pursuing greater scale to help them tap rising demand for dairy produce, including milk powder, in Asia's emerging nations.
Warrnambool rose 0.8 percent to A$9.32 at the close of trading in Sydney.
Global demand for dairy products has grown more than 7 percent over the past decade to $436 billion, led by rising consumption in China. Dairy prices are 25 percent higher than in October 2012, the United Nations Rome-based Food & Agriculture Organization said in a Nov. 7 report.
Farmer Controlled
A combined Murray Goulburn and Warrnambool will create "a globally competitive dairy foods company 100 percent controlled by" farmers, Managing Director Gary Helou said according to the statement. Murray Goulburn has A$350 million in new funding facilities to finance the deal, according to the statement.
Bega holds 18 percent of Warrnambool and Murray Goulburn holds 17 percent, according to data compiled by Bloomberg.
The board of Warrnambool, Australia's oldest dairy producer, this week recommended shareholders accept Saputo's conditional share offer made on Nov. 25.
Saputo's A$9.20-a-share offer is more than double the stock's average price in the 20 days before bidding started, according to data compiled by Bloomberg. That's a record premium for a takeover of a food company in Asia with a market value of more than $200 million, the data show.
Board Support?
The bid by Murray Goulburn, advised by Lazard Ltd., needs to be approved by the Australian Competition & Consumer Commission. The company plans to lodge submissions with the Australian Competition Tribunal this week, it said. CIMB Corporate Finance (Australia) Ltd. is advising Warrnambool.
Warrnambool directors will meet to consider the amended offer, the company said in a separate statement, noting the proposal remains subject to a number of conditions, including competition regulator approval that will probably take three to six months.
"We question whether Murray Goulburn's new offer will receive Warrnambool board support given they have previously said there is uncertainty about the ability of Murray Goulburn to satisfy the competition condition and that it will take several months to be determined," Belinda Moore, a Brisbane-based analyst with Morgans said in an e-mail.
Japan's Kirin Holdings Co. bought a 9.99 percent stake in Warrnambool last month, seeking to protect an arrangement under which the producer supplies at least 12,000 metric tons of cheddar each year for its Australian unit's Coon and Cracker Barrel cheese brands. Fonterra Cooperative Group, the world's largest dairy exporter, said Nov. 1 it had acquired a 6 percent stake in New South Wales state-based Bega.
Before it's here, it's on the Bloomberg Terminal.
LEARN MORE