Is Ikea Spying on Its Customers?
by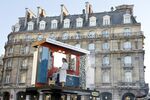 Ikea's French division is already mired in allegations it illegally spied on job applicants and employees, and now the furniture company faces accusations from a French customer who says he was tracked by a private detective after he complained about a late delivery.
Pascal Denize, an Internet entrepreneur who divides his time between California and Europe, says that he got into a dispute with Ikea in 2007 after a delivery of €10,000  ($13,500) in furniture and kitchen and bathroom fixtures to his French vacation home was delayed by almost two months. As a result, his family had to stay in a nearby bed-and-breakfast during a long-planned holiday.
Denize, who is half French and half Swedish, says Ikea initially agreed to reimburse him about €3,400 for shipping costs and for his family's accommodation and meals during the delay. Then company representatives stopped returning his calls, he says; Ikea finally paid him less than €2,000.
Several months ago, Denize says, he was contacted by a French journalist who was investigating allegations of Ikea snooping on employees. The journalist forwarded him e-mails showing that a detective employed by Ikea also had investigated Denize and his wife. Denize got copies of the messages and showed them to Bloomberg Businessweek.
The messages were sent in June 2007 by Jean-François Paris, then-director of risk management at Ikea's French headquarters, to a private detective and former policeman who was hired by Ikea to obtain police reports, bank records, and other information on employees and job applicants, according to French press reports.
An Ikea spokeswoman says that Paris was fired by Ikea in the course of its internal probe into allegations of spying on employees. Bloomberg Businessweek was unable to locate either Paris or Jean-Pierre Fourès, the private detective.
In one of the messages provided by Denize, Paris told the detective that Ikea was having a dispute with a client. He asked him to find out whether the Denizes owned their vacation home and whether they were "known" to the local police. In subsequent messages, the detective confirmed that the Denizes owned the home but told Paris he was "still investigating the morality" of the couple.
"There was a full-blown investigation going on of our personal lives," Denize says. "We don't know the extent of the information they have gathered. We have nothing to hide, but it's very uncomfortable."
The spokeswoman said she was unaware of Denize's complaint and could not comment further because of the pending investigation by prosecutors. Ikea is already facing allegations, first reported by French news outlets last year, that it hired detectives to obtain confidential police records on job applicants and employees. Ikea has acknowledged that "regrettable practices" occurred; the chief executive officer and chief financial officer of Ikea's French operations are under formal investigation.
Roberto Monti, head of South and East Europe for Ikea, said in a statement last week that the current leadership of the French unit had his "full support and trust," and that the company had taken action "to make sure practices against its values and ethical standards never happen again." The statement said that four executives, who weren't identified, had left the company and that Ikea had adopted a new code of conduct "guaranteeing its values and ethical standards."
Before it's here, it's on the Bloomberg Terminal.
LEARN MORE