In Child Porn Crackdown, U.K.'s Internet Filter Strategy Ensnares ISPs
Rage at a pedophile TV star spurs the prime minister's war on smut
By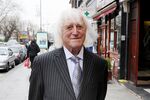 Revelations that late BBC TV host Jimmy Savile sexually abused hundreds of children have prompted soul searching across Britain over how his star power trumped years of suspicion. With constituents enraged, Prime Minister David Cameron has made restricting access to pornography, and especially stamping out images of children, a signature issue.
Cameron in April asked public Wi-Fi networks to filter explicit content in public settings such as coffee shops, train stations, and libraries. The six biggest providers have complied. Then in July the father of four threatened to require companies offering home Internet service to install filters that automatically block pornography; subscribers would need to "opt in" to view such material. Once again, the industry agreed; by early 2014, the filters will be on virtually all Internet accounts in Britain. Adults wanting to view explicit content will "have to have a discussion" with their spouse or partner, Cameron told BBC Radio on Nov. 18.
At a London conference that day, Google and Microsoft announced controls that limit child porn searches, initiatives Cameron threatened to enforce through legislation if not enacted voluntarily. The companies have introduced algorithms that block illegal content and have halted auto-complete on potentially abusive search terms, so typing "underage g…" doesn't suggest the word "girl." Google is implementing technology that brands child porn videos with a unique ID code, which will help authorities remove any copies of such material that are later reposted to the Web.
The government effort comes after reports that Savile, host of the much-loved TV show Top of the Pops for 20 years, abused children on BBC property, in hospitals, and elsewhere. Public anger escalated after two men convicted of murdering young girls in separate crimes were found to be purveyors of child porn online. Such cases, as well as Cameron's initiatives, have boosted public awareness of the problem. Calls to a child abuse hot line run by the Internet Watch Foundation, an industry group that fights illegal porn, have climbed 40 percent in the past year.
Cameron's strategy would be hard to replicate in other countries. In France and Germany, where nudity isn't unusual on late-night television and in advertising, such broad restrictions might be considered overreaching. In the U.S., freedom of speech concerns would likely scuttle any broad effort to restrict access to such material. "Looking for online content is a very sensitive area, even though child porn is illegal," says Carolyn Atwell-Davis, vice president for government affairs at the National Center for Missing & Exploited Children in Alexandria, Va.
The Index on Censorship, a London group promoting freedom of expression worldwide, says it's studying Cameron's measures. While restricting child pornography—which Britain also legally bans—is an admirable goal, says Padraig Reidy, a senior writer at the index, mandatory porn filters are "slightly worrying," adding, "It should be an active choice to opt out of adult content, and the government isn't making it so."
Even child safety advocates have come out against Cameron's tactics. Pedophiles don't search for victims on Yahoo!, Google, or Bing, but lurk in social networks frequented by kids and in chat rooms where they can be anonymous, says Jim Gamble, the former head of the U.K.'s Child Exploitation and Online Protection Centre. "Going after private companies isn't necessarily the way to go here," he says.
A more appropriate focus, Gamble says, would be peer-to-peer networks where child porn is traded in anonymity. Much of that traffic is hosted on the Tor network, created by the U.S. government a decade ago to boost Internet freedom in authoritarian countries.
Meanwhile, the filters Internet access providers voluntarily deploy sometimes block nonporn websites, says Andrew Kernahan, public affairs manager at the country's Internet Service Providers' Association. "We've been pushing the government to provide clarity around the legal issues on this," he says.
Despite the government's stepped-up tactics, some groups are engaged in vigilante activity. Parents in Leicestershire banded together under the name Letzgo Hunting to lure online pedophiles to meetings by posing as young girls. The group posted films of the encounters online and passed details on to authorities. Local police say six men were arrested, though none have been charged while officers gather more evidence. The group disbanded after a 23-year-old man jailed for child sex abuse killed himself when confronted by Letzgo Hunting. Police asked the group to leave such inquiries to officers, says spokesman Brendan McGrath, "and not to start an amateur investigation."
BOTTOM LINE -
The bottom line: The British government has used the threat of regulation to spur Internet providers to install pornography filters.
Before it's here, it's on the Bloomberg Terminal.
LEARN MORE