The Nemesis of High-Speed Traders
Eric Hunsader sees signs of abuse in his charts of market action
By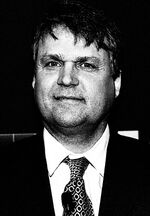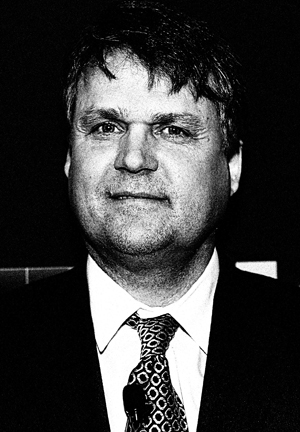 Eric Scott Hunsader, the scourge of Wall Street's high-frequency traders, operates out of an office above the Bliss Salon—manicure/pedicure $45—on Elm Street in the Chicago suburb of Winnetka. Hunsader is the founder of Nanex, a 13-year-old firm that operates as a "ticker plant," taking price streams from U.S. exchanges and distributing the data to clients through software that allows them to analyze and chart it and write their own trading programs.
Spending long hours staring at four computer monitors, he looks for signs of illicit trading hidden in psychedelic images of triangles dancing with dots. Each dot and triangle represents a trade or a quote to buy and sell U.S. stocks by the millisecond. To him the images provide evidence that high-frequency trading firms are exploiting market rules to turn a profit in a lawless environment. "You ever see Lord of the Flies or read that book?" he asks. "When you don't have a parent around, things fall apart."
Since regulators opened trading to greater competition six years ago, the almost $22 trillion U.S. market has fragmented to the point where orders bounce among 13 exchanges and more than 40 alternative platforms. In Hunsader's view, high-frequency traders pose a threat to other market participants because they react so quickly to price movements. He also says the millions of orders they place—and sometimes immediately cancel—drive up data-processing costs and can lead to lurches in the price of individual stocks, not to mention outright disasters such as the May 2010 "flash crash" when the Dow Jones industrial average fell almost 1,000 points in minutes.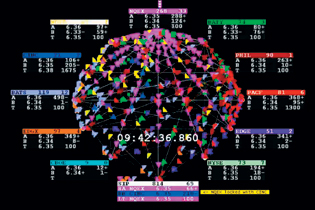 To illustrate computerized trading to the public, Hunsader has turned data into animated videos. One posted on YouTube shows a 50-millisecond period in which quotes for Nokia dashed around the market at a rate of 22,000 per second. He programmed a computer to play piano notes corresponding to different bids and offers for a popular exchange-traded fund, resulting in a manic staccato composition. He says such projects are meant to highlight the absurdity of modern computerized trading.
People at HFT firms accuse Hunsader of misunderstanding what he sees in market data. Manoj Narang, chief executive officer of Tradeworx in Red Bank, N.J., compares Nanex to the "truthers" who doubt the official explanation of the Sept. 11 terrorist attacks. "The conclusions that they form generally have a paranoid or conspiracist sort of bent to them," he says. Chris Concannon, a partner at Virtu Financial and a former Securities and Exchange Commission attorney, joked in a recent speech that Nanex's slogan should be "making markets better with inaccurate information."
Nanex's interpretations are helping to drive the public debate about the fairness of the modern stock market. Virtu and Nanex have traded insults since Hunsader published a Sept. 20 report titled Einstein and The Great Fed Robbery. The report cited market data it said showed a trading firm or firms somehow got advance word about the Fed's Sept. 18 decision not to reduce its $85 billion in monthly bond purchases, then used the milliseconds-long head start to place bets totaling more than $1 billion. Following the report, the Fed began a review and ultimately tightened the way it releases its statements. Virtu issued a report saying Nanex's study was "severely flawed." Hunsader replied that Virtu needs to buy a "new calculator." Concannon didn't respond to requests for comment.
"Everybody who's gone this route" of taking on the trading establishment "has had to be a little bit theatrical, and Wall Street doesn't like it," says Haim Bodek, founder of Decimus Capital Markets, which develops computer programs to help institutions trade with HFT firms. "The irony here is that he really is addressing these deep flaws."
Nanex's offices consist of a room dominated by Hunsader's wall of monitors, another filled with stacks of servers, a common area with a mini-fridge full of soda, and not much else. Hunsader, 51, says he's released about 3,000 pieces of trading research and never stood down from a finding. How do you publish that many reports, he asks, "and not ever have to retract them? If you can't prove your point, then disprove mine. But don't go around saying we think you're making leaps without backing it up."
The flash crash inspired Hunsader to look more closely at the data he was distributing. He and Nanex programmer Jeff Donovan, a Southern California surfer and ticker-plant programmer who also develops three-dimensional graphics software, drilled through the quotes. Patterns they saw as evidence of market manipulation emerged in charts for stock orders. They called them crop circles, a reference to the mysterious patterns sometimes reported in grain fields, and published the research on the firm's website. Calling them crop circles "was a blessing and a curse," Hunsader says. "It was a blessing because it caught the eye of Main Street, and it got us into the Atlantic, which got us into the New York Times. But the curse was that the Wall Street glitterati, or elites, would always associate us with conspiracy theories."
A high-frequency tweeter with more than 11,000 followers, Hunsader conducts his crusade on the Internet and through interviews with journalists, documentary filmmakers, and others looking for someone to explain today's computerized market. Many of his Twitter posts link to his charts highlighting unusual patterns in stock quotes and often blame computer algorithms used by HFT firms. "Obscene manipulation in $AAPL stock. Where's @SEC_News on this & 1000's of other examples?" he tweeted on Oct. 5, referring to the symbol for Apple and a Twitter feed run by the SEC. An SEC spokesman declined to comment on Nanex's assertions, as did representatives of the New York Stock Exchange, Nasdaq OMX Group, and Bats Global Markets, which is combining with Direct Edge Holdings. Bloomberg LP, parent of Bloomberg Businessweek, operates an alternative equities platform called Tradebook and is a provider of market data and analytics.
Among those who have come to Winnetka to consult with Hunsader is James Angel, a finance professor at Georgetown University who studies markets. "I don't think his analysis is always correct," Angel says. "He doesn't know who's trading, who's putting in the various quotes." Nevertheless, he says, Hunsader's work is important: "Even though on average our markets are a whole lot better than they were 10 or 20 years ago, the reality is, hey, there's still some blemishes around the edges that can and should be addressed. And he draws attention to them."
Before it's here, it's on the Bloomberg Terminal.
LEARN MORE