Britney Spears, One Direction Have New Albums for Older Fans
Two pop acts try to stay relevant by targeting older fans
By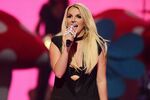 Britney's back. Back again. On Nov. 29, the 31-year-old pop star released her eighth studio album, Britney Jean, a Dr. Luke and will.i.am production. This isn't a triumphant declaration that "Britney's here to stay!"—that was the job of her 2008 album, Circus—it's more like a comforting acknowledgment that she's still alive. Britney and Jean are her first and middle names.
Instead of touring to promote the album, Spears has opted for a two-year residency at the Planet Hollywood Resort & Casino in Las Vegas, where she'll perform a 90-minute retrospective of hits 48 times a year. Her first show is on Dec. 27, at which time her transition from virginal schoolgirl to bald paparazzi target to Celine Dion will be complete.
Vegas visitors can currently catch Rod Stewart, Olivia Newton-John, Carlos Santana, and Tim McGraw and Faith Hill, among others, but "as far as I know, this is the first pop star residency ever [of Spears's generation]," says Jason Gastwirth, senior vice president for marketing and entertainment at Caesars Entertainment, which owns Planet Hollywood. The gossip sites are claiming Spears will make $15 million a year for the gig. (In 2011, Caesars paid Dion $100 million for a three-year run.) The casino has outfitted its venue with a dance floor for the audience, which it expects to be men and women in their 30s, loyal Spears fans who grew up listening to her music. Work it, old people.
Pop has had a hold on the music charts since the late 1990s, when Spears, Christina Aguilera, and a glut of color-coordinated boy bands unseated grunge. According to industry trade magazine Music & Copyright, pop music accounted for 31 percent of global music sales in 2012—that works out to about $7.4 billion.
Yet profitable longevity is tricky for teen idols. Miley Cyrus released her breakout album, Bangerz, this year and found success and controversy by jumping into adulthood in one big swoop. Justin Timberlake, of course, is the gold standard. He broke from 'N Sync in 2002, but it took until his 2006 album, FutureSex/LoveSounds, along with several appearances on Saturday Night Live, for people over the legal drinking age to admit they liked him. The rest of the members of 'N Sync, well, they weren't so lucky. (Poor Lance Bass didn't even make it to space.) Spears has tried to win 'em over with consistency. Her sound hasn't changed much since her 1999 debut, …Baby One More Time. She hasn't suffered for it—Circus made its debut at No. 1, selling 505,000 copies its first week. Yet no one is a "new" Britney Spears fan.
With Midnight Memories, out on Nov. 25, boy band One Direction is taking a subtler approach to growing up, gently sliding down pop's spectrum, hoping no one makes a big fuss. The Simon Cowell-backed group, whose five members are all between 19 and 21, is clearly attempting to wean itself off the tweenybopper market in favor of fans closer to its own age—the album still contains references to first kisses and fights with parents, but it also has a number of simple love tunes aimed at more mature audiences. They're already coming around: A February StubHub! survey found that 46 percent of the group's fans were older than 35.
The songs on Midnight Memories are crisp and clean. Some make use of '80s guitar riffs; others, such as Story of My Life and Strong, adopt Mumford & Sons-esque banjos and hand claps. If You & I (chorus: "We can make it 'til the end / Nothing can come between you and I") doesn't appear on some sappy, flash mob proposal video soon, the Internet isn't doing its job.
It's going to take some time, and probably more than one album, before One Direction sheds its Tiger Beat image. Directioners, as the group's teenage followers call themselves, are so blindly fanatic about their idols that they eschew any critical interpretation of the band's music. Earlier this year, when critics pointed out that the intro to Midnight Memories' first single, Best Song Ever, sounded like the guitar riff in the Who's Baba O'Riley, fans launched a Twitter attack on The Who, writing things like "WHO THE HELL IS THE WHO EVEN?" Eventually, Pete Townshend had to release a statement saying he wasn't going to sue One Direction and that he did like them. That's one way to win over an older listener.