At Cruise Operator Carnival, an Unlikely CEO Takes the Helm
With no prior cruise experience, Arnold Donald is sailing upstream
by and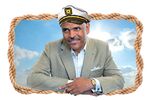 Arnold Donald had been on the board of Carnival for 12 years when he got a call in June from the cruise company's lead director, Stuart Subotnick. It was an offer to succeed Micky Arison as Carnival's chief executive officer, and Donald was incredulous. "OK, what's the call really about?" he asked.
Donald's skepticism was understandable. Arison, the son of Carnival's founder, had run the company for 34 years; Donald, a former Monsanto executive, had no prior cruise-operating experience. Carnival—the world's largest cruise company with 10 brands ranging from the low-cost Carnival to the pricey 173-year-old British Cunard Line—had been in crisis since its Costa Concordia ran aground off the Italian coast in 2012, killing 32 people. That was followed by more incidents this year, including a fire aboard the Carnival Triumph in February that further tarnished the company's image with extensive news video of passengers stranded at sea. Says Donald, who pondered the offer for two days: "I had to think about whether I was the right person at this time for Carnival."
Since taking over on July 3, he's been implementing changes that include a $700 million investment in shipboard fire prevention and backup power systems, a new marketing campaign, and an effort to get Carnival's various cruise lines (which target different economic or demographic groups) to collaborate and become more efficient. "We started out with a few ships," he says. "We grew to a fleet. And now we have an armada. We have huge opportunities to take advantage of our scale in terms of creating demand and creating new revenue."

Carnival shares have risen 3.1 percent on Donald's watch. Yet the stock remains more than one-third below its 2004 peak. Since the Feb. 10 Triumph mishap, Carnival's shares are down 7.7 percent, lagging the advances of rivals Royal Caribbean Cruises (23 percent) and Norwegian Cruise Line Holdings (22 percent).
Although a novice in the travel industry, Donald is no stranger to consumer businesses. After earning a mechanical engineering degree from Washington University in St. Louis, he joined Monsanto in 1977. He supervised the company's Roundup weed killer business—helping transform it into a lawn-care staple for suburban homeowners—before agreeing to lead a private equity firm's acquisition of Monsanto's Equal sweetener operation in 2000.
Carnival was already deep into a public-relations makeover when Donald became CEO. After the Triumph incident, which left 3,100 passengers without enough food or working toilets for four days, the company introduced a "vacation guarantee," promising to refund money and fly guests home if they're not happy with their cruise.
In September, Carnival rolled out a $25 million ad campaign, its largest in five years. The line sought heartwarming stories from customers, and more than 30,000 responded. The resulting Moments That Matter spot is a montage of home movies taken by passengers on its ships. "This marketing campaign is very different than anything we've ever done before," says Gerald Cahill, CEO of the Carnival Cruise Lines brand. "We said, 'Let's let our guests tell our story for us.' "
Among Donald's first steps were meetings with travel agents to repair relations frayed in recent years as the company put more emphasis on automated online bookings. That strategy reduced agent commissions. In recent months Carnival has enhanced its travel agent website and created a bonus program for salespeople. "Carnival had been sort of aloof, but now they're coming back," says John Maguire, founder of online agency CruiseDirect.com.
Donald's also looking for ways that the company's cruise lines can work together, such as jointly obtaining space at ports. Currently, each line negotiates separately. Together they could get better locations and pricing, he says. Still, Wells Fargo analyst Timothy Condor says it likely will be 2015 before the benefits from such changes and the brand rebuilding begin to bear fruit.
In addition to about $50 million in rescue and refund costs for the Triumph incident, the Carnival line has been forced to discount prices to fill its ships. The average cost of a Carnival brand cruise is down 15 percent this quarter from a year earlier and 9 percent for voyages scheduled for the first quarter of 2014, according to Barclays. The parent company has lowered its 2013 earnings forecast three times, warning in September that it may lose up to $17 million this quarter. It said advance bookings are down through the first half of 2014.
Jeffrey Sonnenfeld, a management professor at Yale University who sat on the board of rival NCL, says Carnival's board erred in choosing industry novice Donald and should have explored other candidates. He doubts the steps taken so far will win back customers. "Their ad hoc stabs in the dark aren't going to rebuild the fabric of trust that's been unraveled," he says.
Donald says that ultimately customers will be the judge of whether Carnival's board should have tapped one of its own. If he succeeds, the CEO says, "shareholders will be happy, and no one will care how I got this job."
Before it's here, it's on the Bloomberg Terminal.
LEARN MORE