Why Ron Burgundy Is Moving to a New Time Slot
by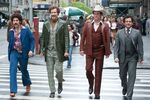 Betting that people want more Ron Burgundy, Paramount Pictures has moved up the release of Anchorman 2 by two days, to Wed., Dec. 18.
Will Ferrell's newscaster character, ever a ratings whore, was already poised to take over what has traditionally been the hottest box office weekend of December. In the past two decades, seven of the top December films have opened on the third Friday of the month, the slot Anchorman 2 was originally scheduled for. But when studios know they have a hit on their hands, they're more inclined to aim for a Wednesday release.
The Lord of the Rings trilogy staked out the third Wednesday of December with great success for three consecutive years, starting in 2001, padding huge openings with extra days of in-demand screenings. Cheating by a couple of days makes sense, because it splits the hardcore fans from the merely eager. The biggest Tolkien heads streamed to the Wednesday premieres (if they weren't camping out on Tuesday night), which left a larger supply of tickets on Friday for more casual fans.
This year's earlier release will also give Anchorman 2 a couple of extra days of business before Christmas, when The Secret Life of Walter Mitty and The Wolf of Wall Street hit theaters.

Whatever day he broadcasts, don't bet against Burgundy. Analysts at BoxOffice Media are predicting the Anchorman sequel will garner $54 million in the U.S. its opening weekend, almost double sales for the first film.
Before it's here, it's on the Bloomberg Terminal.
LEARN MORE