Sports Concussion Fears Spread as Pro Hockey Players Go to Court
Paul M. Barrett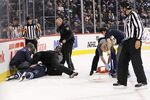 Hockey may not be as relentlessly violent as football. Still, heads hit the ice often enough to warrant concern about concussions. Now that concern has taken the form of a lawsuit. The National Hockey League has been sued by former players who accuse it of concealing the rise of severe brain injuries. Sophia Pearson of Bloomberg News reports:
The NHL ignored the dangers of concussions, wouldn't address the issue of brain injuries, and refused to amend its rules and procedures to protect players, the ten plaintiffs said in a complaint filed [on Nov. 25] in federal court in Washington. "The NHL persists in this conduct to date by, among other things, refusing to ban fighting and body checking and by continuing to employ hockey players whose main function is to fight or violently body check players on the other team," according to the complaint.

The lawsuit follows the NFL's decision in August to settle litigation over concussions by providing compensation to more than 5,000 former players for ailments stemming from head injuries, provide medical monitoring and fund medical research. The NHL complaint seeks medical monitoring and unspecified damages on behalf of all league players.
One would imagine that the hockey players will imitate their football brethren and accept a settlement—probably a lot less than the $765 million the NFL agreed to pay over a period of years. For one thing, professional hockey doesn't produce the kind of revenue the NFL generates.
The suit against the NHL underscores the spread of anxiety over sports-related brain injury. More from Bloomberg News:
Concussion risks in sports have come under increasing scrutiny as research shows that some deaths among young football players could have been prevented if those with head injuries had been kept off the field, according to a 2011 study in the medical journal Pediatrics. Professional sports leagues, including the NFL and Major League Baseball, have changed their medical protocols for treating players with head injuries in response to concussion data.

Gary Meagher, a spokesman for the NHL, declined to comment on the complaint. Meagher said he didn't know for certain whether the case was the first against the league over concussions. The plaintiffs include Bradley Aitken, a former center for the Pittsburgh Penguins; Darren Banks, who played left wing for the Boston Bruins; Curt Bennett, who played forward for the St. Louis Blues, the New York Rangers and the Atlanta Flames; and Richard Dunn, a defenseman for the Buffalo Sabres and the Calgary Flames. The players said they suffer from injuries including blurred vision, memory loss, post-traumatic headaches, vision problems and cognitive deficit.
Parents, coaches, and league officials, even in sports as seemingly benign as soccer and basketball, are going to find litigation risks rising as research deepens into the links between head contact and brain injury. Some of our favorite games will probably look different in the near future.
Before it's here, it's on the Bloomberg Terminal.
LEARN MORE