Merkel Coalition Maintains Opposition to EU Cost-Sharing
Brian Parkin and Rainer Buergin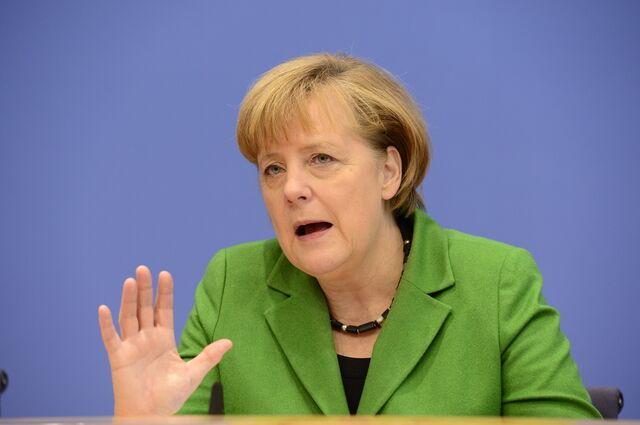 Chancellor Angela Merkel's next government will maintain her previous coalition's opposition to deepening financial ties among euro nations struggling to overcome the region's financial crisis.
While Merkel compromised on demands by the Social Democrats to establish a national minimum wage and increase pension spending, she deflected their support for debt sharing among euro states, said Michael Fuchs, deputy leader of her Christian Democratic Union. It's "very important" that there will be no euro bonds he said today on Bloomberg Television.
"The principle that every member state is liable for its own debt must be maintained," according to the governing agreement struck early today between Merkel's CDU-led bloc and the Social Democrats. "All forms of collectivizing state debt would endanger the necessary orientation of national policies in every member state."
The deal also stuck to previously stated positions on European efforts to forge a banking union. It rejected joint deposit insurance and advocated a 60 billion-euro ($82 billion) cap on bank recapitalization from the European bailout fund, emphasizing that taxpayers would be last in line to pay for bank failures.
Speaking to reporters in Berlin today, Merkel rejected a "debt union" in Europe and repeated her goal of a "stability union."
While the agreement's 15-page section on the European Union, called "Germany's Political Responsibility in Europe," carries the imprint of Merkel's current policy in the debt crisis, it suggests Germany needs to show more leadership.
'Responsible Role'
Europe's biggest economy "must take on a responsible role and one that promotes integration," according to the document. As the "anchor of stability," Germany "has grown into its heightened responsibility and faces particular expectations" by its European partners, the pact showed.
During its time in opposition, the SPD backed Merkel's party in a series of German parliamentary votes on euro-area rescues starting 2010. An earlier endorsement by the SPD for selling joint bonds played no role in the election campaign pledges of its chancellor candidate Peer Steinbrueck.
Merkel's CDU and its Bavarian Christian Social Union affiliate won 41.5 percent, 15 points more than the SPD, national elections on Sept. 22, a victory partly attributed to her stewardship of German policy in the debt crisis since 2010.
Before it's here, it's on the Bloomberg Terminal.
LEARN MORE