Justin Timberlake Is Bringing Unions Back
By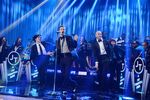 Don't be surprised if the backup performers at Justin Timberlake's next concert break into a dance rendition of the old union anthem Solidarity Forever. Dancers on Timberlake's 20/20 Experience World Tour will now be covered by a union contract, according to the AFL-CIO, with their earnings counted toward eligibility for pensions and health benefits. Timberlake's touring company gets something out of the deal, too: "Improved budget flexibility through direct negotiations with performers," as the AFL-CIO statement puts it.
Ken Howard, president of the Screen Actors Guild‐American Federation of Television & Radio Artists (Sag-Aftra), said in the statement that the pop star was "very open to signing the agreement and personally making sure the deal got done." According to the AFL-CIO, the agreement is the first of its kind for dancers employed on a specific tour. The agreement, the labor organization says, "was previously utilized to cover touring backup singers for James Taylor, Reba McEntire, Martina McBride, Blues Traveler, Josh Groban and Jefferson Starship." (It's not often those musicians appear in the same sentence.)
Dana Wilson, one of the dancers, celebrated the new contract with a tweet:
According to Variety, the contract covers a dozen dancers. There's no mention of the contract on the tour website, which features a black-and-white picture of Timberlake in a tuxedo.
Before it's here, it's on the Bloomberg Terminal.
LEARN MORE