Goldman Sachs Bets Entrepreneurship Will Help Detroit Bounce Back
by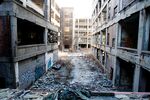 In 2009, during the dark days following the financial crisis, Goldman Sachs pledged $500 million to the nation's struggling small businesses. (It was also a time when the investment bank's reputation was at a nadir.) The idea: Goldman would spend $300 million to fund lenders focusing on economic development in low-income neighborhoods and $200 million for entrepreneurship education.
Four years later, Goldman's 10,000 Small Businesses program has provided capital or education to more than 1,600 businesses in a select group of cities. In September, the bank announced plans to take the program nationwide by offering online courses through Babson College.
Now Goldman Sachs is expanding the program to Detroit, Goldman's chief executive, Lloyd Blankfein, said during a press conference today. To that end, Goldman plans to commit $15 million for economic development loans and offer courses in partnership with three local colleges. The program also touts advisory support from Berkshire Hathaway Chairman Warren Buffett and Harvard Business School professor Michael Porter.
The Motor City can use the help. In July, Detroit became the largest U.S. city to file for municipal bankruptcy. That's just one of many depressing facts: The city's population has fallen to about 700,000 from a peak of 1.85 million residents in 1950. The city lost about 270,000 manufacturing jobs over roughly the same period and is currently home to about 78,000 vacant buildings. More than 36 percent of city residents live in poverty.
The Goldman program won't fix those ills alone, nor will any single one of several other programs to spur the city's entrepreneurs. It is likely to help, though: Nationwide, 50 percent of business owners who graduated from the educational component of 10,000 Small Businesses have created jobs within six months of completing the program, according to Goldman.
Before it's here, it's on the Bloomberg Terminal.
LEARN MORE