Even Subsidized Obamacare Plans Haven't Found Takers Yet
By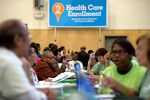 Only 30 percent of the people who applied for health coverage on the Affordable Care Act's new exchange websites last month were eligible for government help, far lower than initial projections. That finding comes from a new analysis of federal data by Avalere Health; the consulting firm still expects that 84 percent of those who ultimately purchase coverage in the exchanges will get subsidies, similar to Congressional Budget Office estimates (PDF).
Obamacare offers assistance in buying health plans to people earning up to four times the poverty rate if they can't get affordable coverage elsewhere. Individuals earning up to $46,000 a year or families of four earning up to $94,000 can get subsidies in the form of advance tax credits that can be immediately applied to health-insurance premiums. (People earning below the poverty line—$11,500 for an individual—qualify for Medicaid coverage in states that are expanding the program.) About half of uninsured Americans have incomes that would make them eligible for lower premiums, according to the Kaiser Family Foundation's analysis of federal data. So why haven't they showed up in the exchanges at the same rate?
Avalere's analysis of government data (PDF) counted 1.1 million people who applied for coverage on healthcare.gov and its state-level counterparts through Nov. 2. They're not all going to enroll in health plans, and not every state reported complete data. Still, Avalere's Matthew Eyles floated a few possible reasons for a lower-than-expected turnout by people eligible for subsidies. First, many people who already have insurance and aren't subsidy-eligible may just be checking their options on the exchanges. They're starting applications but won't ultimately enroll in new health plans. These window-shoppers skew the numbers, but when people actually enroll in health plans, a higher percentage will be subsidized.
Other explanations are more worrisome. One is that the application process for people who get subsidies is more technically difficult, so the bungled software impedes them more than others. Avalere also raised the possibility that subsidy-eligible people are harder to reach. "The initial numbers highlight the challenges associated with reaching lower income individuals via outreach and awareness campaigns," Eyles wrote.
A further possibility is that people with modest incomes feel it's not worth buying health insurance, even with the law's carrot and stick of tax credits to buy coverage and penalties if you don't.
October's enrollment numbers are far too tentative to allow anyone to pin down an explanation. If the numbers look the same when the March 31 deadline for coverage approaches, it could signal that a big share of those currently uninsured don't want to pay for health plans, even with strong incentives from the government to do so.
Before it's here, it's on the Bloomberg Terminal.
LEARN MORE