Bourbon Sells, and Pricey Bourbon Sells Even Better
by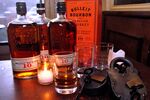 In the liquor industry, one of the only things hotter than Kentucky bourbon is super-expensive Kentucky bourbon. The market for the high-end brown stuff has exploded in recent years, with sales at the upper reaches of the market surpassing even those of the questionably flavored bourbons.
From a certain perspective, the two trends seem to work in concert: Maple, cinnamon, and honey bourbons help ease first-timers into the customer base, and the small-batch exclusivity of aged bourbons await those who cultivate a more refined taste and can afford to spend money on it. "There's very little of this stuff available," says Larry Kass, a spokesman for Heaven Hill Distilleries in Bardstown, Ky., of the upper-end bourbons. His company makes a range of brands that include Evan Williams, Elijah Craig, Fighting Cock, and Admiral Nelson's Spiced Rum. "So when all is said and done," Kass adds, "it doesn't take a huge amount of sales for you to run through your inventory."
Heaven Hill and such high-end rivals as Beam and Buffalo Trace have been running through lots. The North American whiskey category accounts for nearly one quarter of all U.S. booze sales, behind only vodka. But it accounts for 53 percent of sales growth—far surpassing all other segments, according to data that Diageo presented to investors last week. "We don't want people to drink more, we need them to drink better," Diageo's new chief executive officer, Ivan Menezes, told reporters last week.
To that end, Diageo plans to introduce two new bourbon brands in 2014, adding to its successful Bulleit bourbon and rye whiskeys. Diageo says Bulleit sales have increased fivefold since 2010, to 600,000 cases this year. The company will boost that to 1 million with international expansion, Menezes said. Diageo will also introduce two new bourbon brands under the Orphan Barrel label early next year, an aged line that will sell for $75 to $125 per bottle in limited amounts. An additional line, Blade & Bow, will follow later in 2014 and sell for slightly less.
The value of sales is also growing as bourbon makers have increased prices, especially at the high end, where American whiskey is still seen as a relative bargain to premium single malt Scotch. That combination of sizzling growth at the same time that prices are rising creates "kind of this nice perfect storm" for the American whiskey category, Kass says.
Earlier this year, Heaven Hill Distilleries quickly sold out of a batch of 20-year Elijah Craig single barrel, which had a retail price of $160. The street price was higher in many urban areas where it was available. The privately held company recently released a 21-year-old Elijah Craig, which sells for $150, and plans a 23-year-old version next fall. At least one Brooklyn liquor store sells the 21-year Elijah Craig for $220.
How far can the aging and pricing go? Heaven Hill has a few releases that have aged for as long as 27 years but faces a "tipping point" with oak barrels, Kass says: Too long on the wood at the wrong temperature or humidity and a whiskey can be ruined.
Prices might not be similarly restrained.
Aging comes with complexity and cost, and bourbon drinkers have been happy to pay—or, on occasion, steal. Deputies in Franklin County, Ky., are still searching for thieves who swiped $26,000 worth of Pappy Van Winkle bourbon from a Buffalo Trace warehouse. The theft brought even more attention to a brand that has been enjoying sizzling sales and recently branched out into a clothing line.
Before it's here, it's on the Bloomberg Terminal.
LEARN MORE