Qingdao Blast Spotlights China's Dangerous Jobs
by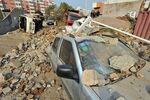 An explosion and fire at an oil pipeline belonging to China Petroleum & Chemical, or Sinopec, which killed at least 52 in the coastal city of Qingdao, has brought official attention back to China's atrocious work safety record.
"This accident once again sounded an alarm for us that production safety must be ensured," Xi Jinping said on Sunday while visiting the relatives of the dead and wounded two days after the fiery incident on Nov. 22. "Otherwise, it will bring irredeemable loss for the country and the people," the party secretary said, according to the official Xinhua News Agency on Nov. 25.
The latest deadly accident follows a fire in a poultry plant that killed 120 people in Jilin province in June, the worst blaze in 13 years. Another June conflagration at an oil complex in Dalian run by Sinopec rival PetroChina left two dead.
Crude oil oozing from the 27-year-old pipeline leaked into the city's rainwater pipe network, causing the explosion and fire at around 10:30 a.m. on Friday. "We are deeply sorry for what has happened in Qingdao and express our sincere condolences to the victims and their families," Sinopec Chairman Fu Chengyu said on his company's microblog, reported Bloomberg News on Nov. 24. "We will do our very best to assist in rescue and post-disaster efforts and work with government investigators to find out the cause," Fu wrote.
The accident was a "very serious dereliction of duty," said Yang Dongliang, director of the State Administration of Work Safety, reported Xinhua in a separate report on Nov. 25. Yang cited problems with the layout of both the oil and urban drainage pipe systems, as well as unprofessional behavior by those dealing with the oil leak, before the explosions occurred.
Yang's agency puts out regular reports on the state of workplace safety in China, and they don't make for nice reading. Take the most recent: More than 27,700 people died while working or went missing in 226,048 separate accidents in the first six months of this year. Still, that dismal record was an improvement from before, with deaths down by 13.9 percent and accidents by 3.8 percent from the same period of 2012, reported Xinhua on Aug. 21.
And what job is most dangerous? Not surprisingly, any one that involves navigating China's scary roads, with 26,000 people dying in about 100,000 traffic accidents over the first seven months of this year. No.2 for fatalities were fires; 74,000 killed 1,164 people over the same period. Meanwhile, 158 boating accidents (a figure that sounds low, given China's vast coastline) left 148 people dead or missing. Finally, 102 people died in 108 incidents involving "special equipment, such as elevators and boilers," this year through August 15, reported Xinhua, citing sources that included the public security and transport ministries and the quality supervision and inspection administration. (Working in coal mines can also be particularly lethal, with 1,384 miners dying last year.)
While in Qingdao, Xi stressed the need for industries to improve safety through better supervision. "A large-scale work safety check should be launched … with inspectors going deep into the production sites anonymously and unannounced," Xi said.
Before it's here, it's on the Bloomberg Terminal.
LEARN MORE