Patagonia's Confusing and Effective Campaign to Grudgingly Sell Stuff
By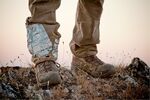 Forget flat-screen TVs or the other dependable doorbusters, maybe the hot gift this holiday season will be a $29 sewing kit. At least, that's what the slightly green marketing team at Patagonia is pushing during this week's Black Friday frenzy. It's like an iPad, only cheaper and less fun.
The maker of outdoor gear and apparel is continuing its constant campaign to persuade core and potential customers to buy less stuff. In addition to the sewing kit, Patagonia, which is based in Ventura, Calif., has produced a documentary film featuring rugged fans who wear the company's clothes until they are coming apart at the seams—and then plaster them with duct tape and wear them some more. The 28-minute film, dubbed Worn Wear, will screen at 15 Patagonia stores Friday (and can be found here in the meantime). "It makes a whole lot of sense to have as little as you need," a crusty beach bum says in the movie.
If this is a refreshing and noble message amid the seasonal din, it's also an undeniably sanctimonious pose for a retailer and a bit confusing. The folks piling into Patagonia to snap up fancy parkas and fuzzy fleeces this week might feel more guilty than gleeful if they catch some of the film.
And the buy-less campaign may well be pushing consumers to do the exact opposite. Around Thanksgiving 2011, Patagonia started its green marketing push with a full-page ad in the New York Times that read "Don't buy this jacket." Annual sales in the following two years grew almost 40 percent. Not surprisingly, Patagonia's message this Thanksgiving is unchanged: Whatever you do this week, don't pine for a shiny new parka. Don't go into its stores to check out the new movie. And don't buy any of the really cool clothes the ruggedly handsome folks are wearing in our film.
Just relax. Crack one of Patagonia's new (hard to find) beers and sew up the holes in your long johns. Just don't forget to tweet all about it (#WornWear, #BetterThanNew, #AntiBlackFriday).