Paschi Said to Hire Citigroup for Stock Sale; Shares Fall
Elisa Martinuzzi and Ruth David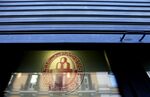 Citigroup Inc., Goldman Sachs Group Inc., Mediobanca SpA and UBS AG will underwrite Banca Monte dei Paschi di Siena SpA's 3 billion-euro ($4 billion) stock sale, said two people with direct knowledge of the transaction. The shares fell the most in almost eight months.
The four banks will lead at least nine firms in an underwriting group that Monte Paschi will review at a board meeting today, said the people, who asked not to be identified before the plan is finalized.
Officials for the four firms declined to comment, as did a spokesman for Siena, Italy-based Monte Paschi, the country's third-largest lender. The board was scheduled to meet at 9 a.m. today, the bank said in a statement yesterday.
Monte Paschi, engulfed by investigations into alleged misconduct by its former managers, plans to tap shareholders in a rights offer as soon as January to repay part of the 4.1 billion euros it received in state aid. European Union authorities demanded the repayment in 2014 after the bank restated accounts to reflect losses hidden by previous management in 2008 and 2009 and first revealed by Bloomberg News in January.
Monte Paschi's shares were halted after sliding 10 percent to 17.58 cents in Milan trading, the biggest fall since April 2 and the lowest level in seven months.
Monte Paschi hired UBS as adviser on the stock sale last month. The lender is also cutting jobs and selling assets as part of the taxpayer rescue.
Before it's here, it's on the Bloomberg Terminal.
LEARN MORE