London Battersea Station Penthouse to Be Priced at $49Mln
Chong Pooi Koon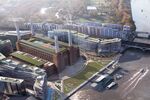 London's Battersea Power Station developer plans to sell luxury apartments for as much as 30 million pounds ($49 million) each, anticipating buyers will pay a premium to own prominent pieces of the historic building.
Battersea Project Holding Co. will start selling 250 apartments at 2,500 pounds a square foot in April, Liew Kee Sin, the developer's chairman, said in Kuala Lumpur today. The estimated price of a penthouse in the derelict power station, to be built in the second phase of construction, is 25 million pounds to 30 million pounds, the company said.
"This is the only apartment in the U.K., and perhaps Europe, that's being built on top of a power station," Liew told reporters. "There are people who want to own a piece of the history."
The Battersea developer's Malaysian roots may help it reach Asian buyers who have been snapping up London new homes following property curbs in their home country. Luxury-home developers are planning to build more than 20,000 properties in London over the next decade, according to consulting firm EC Harris LLP.
The Battersea development has about 6,000 registered customers and there's no risk of oversupply of luxury apartments in the area, Liew said. The project's first phase was sold in excess of 1,000 pounds a square foot and the third phase is expected to come to market in September next year at 1,800 pounds a square foot, he said.
Pink Floyd
The first and third phases are new buildings surrounding the power station, which has been a feature in popular culture such as the cover of Pink Floyd's 1977 album 'Animals.' The Battersea plant, built starting in the 1930s with four 350-foot-high smokestacks, is Europe's largest brick building.
The Battersea development is part of the Vauxhall Nine Elms Battersea Opportunity Area south of the River Thames and across from the Kensington & Chelsea and Westminster boroughs. It's the U.K. capital's largest redevelopment area and includes a new U.S. embassy and an extension of the London Underground.
Two-thirds of new London homes sold before completion are being purchased by Southeast Asian buyers, Tom Eshelby, residential director at London-based Land Securities Group Plc, the U.K.'s largest real estate investment trust, said in an interview this month. Measures taken by Singapore and Hong Kong to cool their housing markets have prompted buyers to seek investments abroad, according to Eshelby.
Malaysian developers SP Setia Bhd. and Sime Darby Bhd. led a group that bought the Battersea site for 400 million pounds last year after its previous owner was put into administration, a U.K. form of bankruptcy protection.
Before it's here, it's on the Bloomberg Terminal.
LEARN MORE