JPMorgan Has a Few Words for the Government
By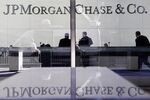 At a panel discussion in New York on Friday, JPMorgan Chase legal counsel Stephen Cutler cleared up any ambiguity there might have been about his feelings about the U.S. government's prosecution of his company. "At what point does this stop?" he said, referring to JPMorgan's $13 billion settlement with the Justice Department as well as other banks' fines, according to Fortune. "We should all be concerned that there doesn't seem to be a natural end point to how high fines could go."
He was speaking at a banking industry conference in New York hosted by the Clearing House, a trade organization. In what surely led to some of the most awkward cocktail party chitchat in recent memory, Cutler appeared on the panel with regulators from the Office of the Comptroller of the Currency and the Consumer Financial Protection Bureau. He said that too many regulatory agencies were piling into the same investigations and that the record-setting fines extracted from the banks were somewhat arbitrary, based on little more than that the bank in question was very large.
Cutler has seen it from both sides, having been through the revolving door a number of times. Prior to becoming general counsel to the nation's largest bank by assets in 2007, Cutler was head of the enforcement unit for the Securities and Exchange Commission from 2001 to 2005. Between the two jobs, he was a partner at WilmerHale, the corporate law firm he joined shortly after law school at Yale.
At the conference last week, Cutler discussed an SEC settlement with IBM that he was involved in 15 years ago. IBM agreed to pay $10 million. It was the largest penalty of its kind at the time, and as head of enforcement, Cutler took a lot of criticism over it. In 2003, he launched an investigation of JPMorgan and its role in the Enron fraud, ultimately settling with the bank for $135 million. Since joining JPMorgan, he has been immersed in the activities that got the bank into regulatory trouble, including the 2008 purchases of Bear Stearns and Washington Mutual. Cutler also ran the company's compliance unit during the London Whale fiasco and all sorts of other hiccups.
Cutler may be onto something, namely that many of the eye-popping fines the government has recently demanded to settle high-profile Wall Street cases seem somewhat arbitrary, designed more to generate headlines than to adhere to any specific formula. But it's also possible that the smaller fines did not really catch Wall Street's attention.
Before it's here, it's on the Bloomberg Terminal.
LEARN MORE