How Much Does Small Business Saturday Boost Main Street?
by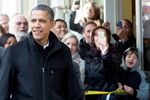 As a marketing campaign, Small Business Saturday has been a big success for its big backers. American Express launched the promotion in 2010, offering rebates to cardholders who shopped at small businesses on the Saturday after Thanksgiving. Since then, the initiative has attracted such corporate partners as FedEx, Facebook, and Twitter, and lots of positive press. The Republican-controlled House of Representatives and Democrat-run Senate have embraced the campaign, as have President Barack Obama and the National Federation of Independent Business.
Gauging the impact the program has had on sales in Main Street shops is trickier. Anecdotally, small business owners have reported an uptick in sales during the promotion. This year, American Express is trying to get its cardholders to shop small by offering $10 back when they spend at least $10 at a qualifying merchant but won't say how much its cardholders have spent in previous years. AmEx surveys found that shoppers who had heard of Small Business Saturday spent $5.5 billion on that day last year, and 77 percent plan to shop at small businesses this Saturday, the company says. It's hard to say how much consumers would spend at small businesses absent the promotion.
American Express Vice President May Ann Fitzmaurice Reilly says measuring the sales impact is difficult because shoppers use different forms of payment. "We couldn't be more proud and more humbled by how small businesses have taken ownership," she says. "It's become a part of the shopping culture, along with Black Friday and Cyber Monday."
Not everyone is a fan. It's been argued that the campaign is a bigger coup for American Express than it is for Main Street businesses. And advocacy group Main Street Alliance is holding a press conference tomorrow to "denounce the hypocrisy" of American Express promoting small businesses while charging the credit card "industry's highest" swipe fees and corporate tax strategies.
Main Street Alliance doesn't want shoppers to shun small businesses, of course. It wants them to "leave home without" their American Express cards on Small Business Saturday, according to a press release. That might be the best support for Fitzmaurice Reilly's assertion that the promotion has reached "movement" status. (To that end, consider this spinoff in Portland, Ore.) "Small Business Saturday is payment agnostic," she says. "As long as consumers shop small, we don't care how they shop."
Before it's here, it's on the Bloomberg Terminal.
LEARN MORE