How Congress Could Derail a Nuclear Deal With Iran
Hawks in the Senate are in no mood to compromise
By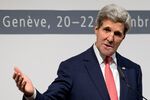 When Secretary of State John Kerry joined the nuclear negotiations at the Intercontinental Hotel in Geneva last Saturday, he employed the oldest negotiating trick in the book, evoking Congress as the bad cop to the Obama administration's good cop. Kerry told Iranian Foreign Minister Mohammad Javad Zarif that if they failed to reach an agreement that day, the Obama administration would be unable to prevent Congress from passing additional sanctions against Iran. Less than 24 hours later, Kerry and Zarif walked into the hotel lobby to announce that they had struck a deal to freeze Iran's nuclear program temporarily.
In the face of criticism from members of Congress and U.S. allies in the Middle East, administration officials have insisted that the Geneva agreement is just the first step toward a more far-reaching disarmament deal. But such a deal will require that the Obama administration promise not just to forestall the imposition of new sanctions, but also to reduce dramatically the sanctions already in place. And that depends on the cooperation of a Congress that has been singularly uninterested in assuming the role of good cop in the showdown with Iran.
The White House has some discretion to rescind the Iran sanctions without Congress's approval. The method for removing any given set of sanctions depends on how those sanctions were passed in the first place. If they're the product of an executive order, as many of the existing sanctions against Iran are, removing them requires only that the White House decide to stop enforcing them. That's exactly how the administration will be making good on its promise to Iran, as part of last week's interim agreement, to restore access to $7 billion held in foreign bank accounts.
Removing sanctions that have been passed into law by Congress, however, is a much more difficult challenge. Despite the partisan gridlock in Washington over the past several years, bipartisan majorities have managed to cooperate on three separate rounds of sanctions since 2010, including measures targeting Iran's central bank, which Iran will undoubtedly want rescinded. Removing those laws from the books will force the White House to go through Congress all over again. That will require overcoming the partisanship and procedural hurdles that have consumed Congress in recent years.
More challenging still, it will require confronting the many members of Congress who harbor goals for the nuclear negotiations that diverge sharply from the goals of the White House. Although last week's interim agreement essentially concedes that Iran will maintain an enrichment program in any future compromise, many members of Congress have declared that Iran cannot be trusted with any  nuclear capabilities at all.
Senator Mark Kirk (R-Ill.), who co-sponsored the most recent round of sanctions to pass Congress, has been particularly blunt. "How do you define an Iranian moderate?" he said recently. "That's an Iranian who's out of bullets and money." In responding to the Geneva deal, Senator Marco Rubio (R-Fla.) declared: "There is now an even more urgent need for Congress to increase sanctions until Iran completely abandons its enrichment and reprocessing capabilities."
To the extent that this remains simple grandstanding, it needn't interrupt the ongoing negotiations for a comprehensive nuclear agreement. But the danger is that Congress could seek to pass new legislation setting conditions on future negotiations and on the eventual removal of sanctions. A bipartisan congressional group is pushing a bill that would automatically impose new sanctions against Iran if it fails to agree to a comprehensive deal during the six-month duration of the existing interim agreement. The law may also seek to define in advance the boundaries of an acceptable comprehensive agreement.
It wouldn't be the first time that Congress tried to reduce the Obama administration's flexibility. Earlier this year, Kirk drafted legislation that would have severed the tie between sanctions and the nuclear program by keeping them in place until "the Government of Iran has released all political prisoners, is transitioning to a free and democratically elected government, and is protecting the rights and freedoms of all citizens of Iran, including women and minorities." But the international stakes are now higher than they've ever been.
Which is why the White House's biggest foreign-policy priority is selling its Iran policy at home. Dennis Ross, Obama's former adviser on Iran, says that if the administration does finalize a comprehensive deal with Iran, it will immediately have to make the case that there is no other diplomatic alternative. "Those on the Hill who disagree would then be forced to make the case for war," Ross says. "I want to see who would say at that point, 'No, that's not good enough.'"
BOTTOM LINE -
The bottom line: The White House doesn't have the power to lift all sanctions on Iran and will need cooperation from Congress.
Before it's here, it's on the Bloomberg Terminal.
LEARN MORE