Four Things to Know About Wal-Mart's New CEO
by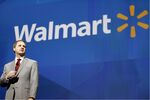 Mike Duke is retiring as chief executive of Wal-Mart Stores after a difficult couple of years for the world's largest retailer. Doug McMillon, who's 47 and heads the company's international business, will take over on Feb. 1. Here are four things you need to know about McMillon and what his elevation means for the company he will soon be running:
1. McMillon's part of Wal-Mart has had its share of troubles recently. The U.S. Department of Justice and the Securities and Exchange Commission are investigating allegations of corruption by Wal-Mart executives in its Mexican subsidiary, the company's biggest, and a potential cover-up by executives at its headquarters in Bentonville, Ark. Wal-Mart is cooperating with the investigations and conducting its own internal investigation and review. The retailer also faced criticism that it wasn't doing enough to ensure safe working conditions in garment factories in Bangladesh, after several fires killed more than 1,000 people. And last month Wal-Mart had to break up with its Indian partner, delaying its ambitious plans to open hundreds of supercenters there.
2. His rival for the job faced worse problems. Bill Simon, the head of Wal-Mart's U.S. operations, was the other executive frequently named as a potential successor to Duke. But Wal-Mart's U.S. stores have been dealing with even bigger issues than its international ones. Bloomberg News has reported that the retailer alienated some shoppers on its home turf because the retailer doesn't have enough workers to keep shelves adequately stocked. Some of those workers, meanwhile, have been protesting Wal-Mart's low wages. And recently the company said it expects same-store sales over the all-important holiday season to be "relatively flat."
3. International growth is essential to Wal-Mart's future. Its board of directors, led by Rob Walton, the eldest son of Sam Walton, must believe that its international problems are easier to fix than its domestic ones. And after appointing McMillon as CEO, it's very possible that Simon will leave the company.
4. McMillon has worked for Wal-Mart for a very long time. He started as a summer employee in 1984 and over the years has held different positions in merchandising in the U.S. He was president and CEO of the Sam's Club warehouse division from 2006 to 2009, and he subsequently took over the company's international operations. He is also reportedly close to the Walton family, which owns about half the retailer's stock.
Before it's here, it's on the Bloomberg Terminal.
LEARN MORE