Condom Maker TTK Seeks Rebound After Durex Loss: Corporate India
Ganesh Nagarajan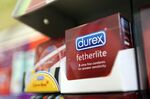 TTK Group, the Indian company that lost rights to make Durex condoms after a dispute triggered the exit of partner Reckitt Benckiser Group Plc a year ago, plans to triple exports of its own brand as it seeks to revive sales.
TTK Healthcare Ltd., which started selling the Skore brand of prophylactics in November 2012, aims to increase overseas shipments to 1 billion units in two years from 300 million, Chairman T.T. Jagannathan said in an interview. The company's market share in the world's second-most populous nation has shrunk to as little as 7 percent from as high as 47 percent when it made Reckitt's Durex and Kohinoor brands, he said.
"We want to achieve the same market share, which Durex and Kohinoor had and which took 50 years to build," Jagannathan said in a telephone interview from Bangalore. "If I want to do that in three years, I need to be aggressive. We are advertising aggressively."
The Chennai-based group is seeking to revive profit that has declined for four straight quarters after losing Reckitt's brands. It is tapping overseas markets beyond the U.K., the Middle East, Australia and Russia and also at home where economic development and changing social mores are increasing the usage of contraceptives. Male-condom sales in India are projected to grow 22 percent annually in the five years through March 2015 to a record 21 billion rupees ($335 million), according to a report by AM Mindpower Solutions.
Kama Sutra
In India, where sales of condoms now are about 1.8 billion units a year, the Skore brand faces competition from established names such as Manforce and Kama Sutra. Manforce is produced by Mankind Pharma Ltd. and controls about 28 percent of the market. Kama Sutra is made by Raymond Ltd.'s unit JK Ansell Ltd. and commands about a 17 percent market share, according to Ranju Kumar Mohan, director and business head of JK Ansell. In addition, state-owned HLL Lifecare Ltd. is expanding capacity.
Revenue from the condom business at TTK is likely to drop almost 60 percent to 200 million rupees for the year-ending March 2014, Jagannathan said. After Reckitt's departure from the partnership, TTK's net income declined an average 34 percent in the four quarters through Sept. 30, according to data compiled by Bloomberg.
TTK Healthcare shares have declined 5.7 percent this year to 513.35 rupees, compared with a gain of 5.1 percent in the benchmark S&P BSE Sensex, according to data compiled by Bloomberg.
'Morning After'
Oral contraceptives, including "morning-after pills", are hurting sales of male condoms, said JK Ansell's Mohan. The study by AM Mindpower shows the market for emergency contraceptive pills is likely to grow 33 percent in the five years through March 2015.
"There's no major threat from pills in a largely untapped market that has a lot of room for both to grow," said Devraj Dhagat, an analyst at FRR Shares & Securities Ltd. in Mumbai, who has initiated coverage of TTK Healthcare with a buy rating. "TTK has a large distribution network and they are going heavy on Skore marketing. For these reasons, I am positive they will increase their market share."
The company relies on about 180,000 outlets across India built over the years to distribute its Skore condoms, Jagannathan said.
The TTK Group, founded in 1928, entered the contraceptives business in 1950 and won license to make and distribute condoms of the London Rubber Co., which later became London International Group Plc. The partner became part of Reckitt after parent SSL International was acquired by the Berkshire, U.K.-based pharmaceutical company in 2010.
Supplies Disrupted
Reckitt sold its entire stake in the Indian venture TTK-LIG Ltd. back to TTK in November 2012 for 18 million pounds ($29 million) after the two companies disagreed about pricing. The feud had disrupted global supplies of Durex condoms starting May 2011.
TTK Healthcare will combine with TTK-LIG by January to consolidate the group's condom business. TTK has capacity to manufacture 2 billion condoms a year at its three factories in southern India.
The industry faces challenges in rural and semi-urban markets, where the distribution network is weak, said JK Ansell's Mohan, whose company distributes 40 varieties of the Kama Sutra brand.
"TTK has done a huge job in recapturing what their strength was after losing Kohinoor and Durex," he said.
Before it's here, it's on the Bloomberg Terminal.
LEARN MORE