China's Latest Threat Should Give a Boost to Japan's Abe
By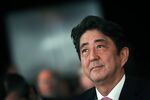 Japanese Prime Minister Shinzo Abe should be sending a simple message to Chinese leaders: thank you. Over the weekend, China made a surprise announcement of an air-defense identification zone in the East China Sea and threatened to take "defensive emergency measures" against planes from other countries that violated the area without notifying the Chinese.
China's declaration raises the ante with Japan, since the new zone includes airspace around disputed islands at the center of a spat between the two countries, and sure enough, the Chinese move has set off a new round of indignant comments by both sides. China's policies toward the islands (called the Diaoyu by China and Senkaku by Japan) are "profoundly dangerous acts that unilaterally change the status quo," declared Abe's foreign minister, Fumio Kishida. The Japanese statements are "utterly groundless," Chinese Defense Ministry spokesman Yang Yujun responded, "and China won't accept them."
That may be. But for Abe, who is facing difficulty at home as he tries to make progress on his program to revive the Japanese economy, the bellicose talk from Beijing comes at a convenient time. During last year's election campaign, Abe took a hawkish stance toward China, and he has focused much of his foreign policy on building ties with countries on China's periphery that worry about a more bellicose Middle Kingdom. After less than 12 months in office he has already visited all 10 members of the Association of Southeast Asian Nations, many of which have territorial disputes of their own with China.
Given the size of the economic challenge at home, Abe has had to put some of his most aggressive ideas on hold. For instance, reform to get rid of General Douglas MacArthur's pacifist constitution is not on the short-term agenda. An advisory panel is in the process, however, of completing Japan's first-ever national security strategy by the end of the year. It's likely to call for a beefed-up naval and air presence around the disputed islands. China's latest move is therefore a useful reminder of Japan's need to make changes and should help Abe push aside any opposition from domestic critics.
Standing up to China also might help Abe as he struggles with his core project at home, fixing the Japanese economy. After a year, Abenomics has succeeded in weakening the yen and boosting corporate profits by increasing government spending and Bank of Japan asset purchases, but the prime minister has yet to follow through on what he calls the "third arrow" of his plan, structural reforms to ease restrictions on businesses and labor markets.
That's leading to warnings of a downgrade by Standard & Poor's. While policies to revive the economy and push through an increase in the consumption tax next year will help cut Japan's debt burden, the rating company says they're not sufficient. "We believe these measures will slow deterioration in the government's already high ratio of debt to GDP, but they still fall short of putting the country on a stable path to mending its fiscal problems," S&P said in a report published today.
The rating company is unsure of Abe's willingness to curb what it calls "bloated expenditures." Other problems include a narrowing current account surplus (the country's import bills have soared following the post-Fukushima closure of 50 Japanese nuclear power plants). As a result, S&P analayst Takahira Ogawa says, "we still see more than a one-third chance we will lower our sovereign rating on Japan within two years." With reviews like that, Abe probably appreciates the chance to look tough against the Chinese.
Before it's here, it's on the Bloomberg Terminal.
LEARN MORE