Can People Power Save Time Inc. From a Sinking Newsstand?
by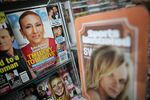 The first detailed look at the financials of Time Inc. in almost a quarter century revealed what grocery-store clerks have long known: People really love People, though not quite as much as they once did.
The saccharine, celebrity-focused title is the crown jewel of the Time Inc. empire, pulling far more readers and ad dollars than the company's other 23 U.S. publications, including weighty news analysis in its namesake magazine, the jocks and skimpy swimsuits of Sports Illustrated, and the rich recipes of Southern Living. With a circulation around 3.5 million, however, People still accounts for about 12 percent of Time Inc.'s active subscriptions and harvests 20 percent of total revenue, according to paperwork filed late Friday ahead of a spinoff from Time Warner.
Any long-term bets on the company ride on People remaining a publishing powerhouse. Here's a look at how the magazine stacks up against Time's other popular publications.
 


Yet the magazine empire that scours the world to find the "Most Wanted" man and the "Person of the Year" is not itself as lusted after as it once was. Time Inc.'s newsstand sales have been falling fast, outpacing declines in both circulation and advertising revenue. The company acknowledged in its SEC filing that celebrity offerings, in particular, are losing favor among impulse buyers.
 


Time Inc. is also fairly reliant on newsstand sales, making the spinoff pitch slightly more bearish. Almost 40 percent of its recent circulation revenue rode on squeezing a few dollars out of an idle shopper in a checkout line or someone looking to kill an hour in an airport.
While Time Inc. gets more money per magazine when its products are sold individually, it is also less reliable revenue—what analysts call lumpy returns. The newsstand model also puts a huge amount of pressure on editors and designers to produce compelling covers, and the company can't count on Adam Levine's bedroom eyes every week.
Time Inc.'s digital offerings, while robust, haven't drawn much attention—a bit of a mixed blessing. Only about 3 million print readers have activated digital access, which represents just 10 percent of active subscriptions. In a comparison from the newspaper world, the New York Times is now getting almost 20 percent of its circulation dollars from digital subscribers. The longer Time can keep readers plugged into its paper-based business model, the better. But the low ratio of electronic readers suggest Time readers may be ditching paper subscriptions and not replacing them with digital dollars.
All that aside, Time offers investors something increasingly rare in the media world: a profit. Despite the fickle economy and unreliable advertisers, Time pocketed $1.1 billion in the past four years. It's in the black again this year, thanks in large part to those people who still love People.
Before it's here, it's on the Bloomberg Terminal.
LEARN MORE