pursuits
Forget Highlights. NBA Video Box Scores Offer Every Lowlight, Too
The league teams up with SAP to deliver endless video replays
By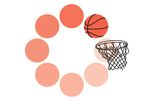 On his way to the National Basketball Association scoring title last year, Carmelo Anthony of the New York Knicks made 669 shots, not counting free throws. Starting Monday, you can watch every single one of them on the league's stats page. You can also watch any of Anthony's 820 missed shots, 460 rebounds, 175 turnovers, or just about any play by any of the 400-odd players in the league.
Virtually every statistic in the NBA's online database, beginning with last season, will be linked to video showing the play it describes. Go to the box score for the decisive game of the finals from June, for instance, click on the 3 that denotes LeBron James's offensive rebounds for the night, and up pops a box with all three clips.
"We believe this is the first time video of every play of every game has been married to the statistics," Ken DeGennaro, the NBA's vice president for operations and technology, said as he showed off the new feature in a suite at Madison Square Garden before the Knicks played the Indiana Pacers last week. DeGennaro looked less like a midcareer technocrat and more like a grinning schoolboy as he searched out Joe Johnson clutch shots, Chris Paul alley-oops, and a rather improbable Jeff Green buzzer beater for a handful of reporters.
From the few minutes I've spent noodling with a demo version, I can attest that sortable replays have a gee-whiz technical appeal. It's fun to watch Stephen Curry make threes. Jeremy Lin turnovers all look alike. A few basketball nerds are about to lose a lot of hours down the wormhole.
Yet it's hard to imagine there's a broad appetite for rewatching, say, a Ryan Hollins defensive rebound from a missed free throw in the garbage minutes of a game against the Los Angeles Lakers. So why does the NBA bother?
The short answer is because it can. While the league sells exclusive live video rights to its media partners, it owns every game once it's over. This is just another way to make use of the vast archive, and adding the clips to the stats is not as heavy a lift as it would have been 10 years ago. In July 2012, the league announced a marketing partnership with enterprise software maker SAP, which led to the launch in February of the NBA's massive new stats site. Earlier this month the NBA added player-tracking data. Video box scores are the latest addition in the ongoing bid to build the most exhaustive and user-friendly statistical archive in sports.
Evan Welsh, senior director for global corporate affairs at SAP, says the tech company spent six to nine months helping the NBA get the initial site running and training the league to use its software. The NBA, says DeGennaro, began working to add video this summer. Replays for each game will become available about 45 minutes after the final buzzer, roughly the time it takes an employee in the league's Secaucus (N.J.) offices to log the video. Once a game is in the system, SAP's HANA software can call up the requested slice of video in a matter of seconds. (For now, replays are available only via desktop, but the NBA intends to add mobile, according to DeGennaro.)
Producing online entertainment, in other words, now takes less time than it does to consume it. And the more inventory you have, the more advertising you can sell. The league says preroll ads will run before replays beginning on day one; it doesn't specify how long and how often. For some fans, the archive will be a way to build their own highlight show with all the plays they want to see in their entirety. DeGennaro calls the replays a "complement" to other highlights and says they provide "the visual story behind our statistics."
For SAP, the NBA site is a showcase. Although the company sells to other businesses, it wants to be visible to more consumers and set a goal of getting its software in the hands of 1 billion users by 2015. Last year it added a sports and entertainment division as a way to get there. "We want more people touching, using, and benefiting from SAP software," says Welsh. That's partly because some of those people might be making software-buying decisions where they work and partly because SAP wants as much practice as it can get making simple-to-use products.
The software that runs the NBA stats site is not all that different from what SAP's utility customers use to check meters and troubleshoot remotely. "It's not just the C-suite or a couple of IT people," says Welsh. "We are looking to build beautiful software that's easy to use for everyone in an organization."
And hanging out in the company's suite at Madison Square Garden is not bad either.
Before it's here, it's on the Bloomberg Terminal.
LEARN MORE