Want a Scholarship to the Simon School of Business? Play This Game
by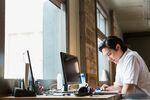 Here's a novel way to pay for business school: Win an online game.
The University of Rochester's Simon School of Business is expanding a program that awards scholarships to executive MBA applicants who excel at an online game that simulates running a business. Now candidates for Simon's part-time and full-time programs will be eligible.
Last year, eight applicants won about $325,000 in grants. This year the overall kitty for the contest, which starts in February, will be about $540,000. Participants don't have to apply to Simon, though they must submit a résumé to demonstrate business chops, and they must enroll to claim the scholarship prize.
Aptly named the Simon Games (Hunger Games without the blood), players get $9 million in imaginary capital to run a computer company. They decide where to build factories, which markets to target, and how to brand products, then grapple for market share against other players. At the end of the four weeks—two years in game-time—the top players are called before a panel of Simon faculty and alumni, who pick the winners based on how well their virtual companies performed and how they're positioned for the (simulated) future.
Simon first experimented with using an online game as a recruiting tool in 2006 but gave up after being overwhelmed by participants who liked playing the game but had little interest in attending business school. In 2010, Simon revived the games but only for its executive program, which placed No. 39 in Bloomberg Businessweek's most recent EMBA rankings. The school has been doing a better job screening applicants to make sure they are realistic prospects. Last year, 74 executive MBA prospects competed, says Carin Conlon, an assistant dean at the school.
For Simon, the competition is a way to show potential applicants how much business school has to offer. "I can sit down with you and tell you personally all the aspects [of running a business] you're going to learn about in our program," Conlon says. "Letting you experience it firsthand in the game can be a more powerful thing."
Winning the Simon Games is no guarantee of success in business school. But since relaunching the contest, Conlon says students who won scholarship money have twice finished with the highest grade-point average in the executive education program.
If entrepreneurs can raise capital from business plan competitions and reality television shows, maybe it's not so strange for a business school to use an online game as a recruiting tool.
Before it's here, it's on the Bloomberg Terminal.
LEARN MORE