Obamacare's Support From Democrats Slips in New Poll
By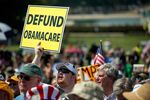 Nearly half of Americans now have a negative view of the Affordable Care Act, according to a new poll by the Kaiser Family Foundation, and President Obama's signature health law is losing support among Democrats and women.
The survey, conducted in the second week of November, captured public anger and anxiety over Obamacare's difficult launch, with insurance-exchange websites plagued by software problems and some existing coverage being canceled by carriers because the policies don't meet the ACA's minimum standards.
Democratic support had increased in the buildup to the health exchange launch on Oct. 1. In the last month, however, it dropped from 70 percent to 55 percent in Kaiser's poll. Women, who had been about evenly split on the law, turned negative, with nearly half holding an unfavorable view in November. Only about a third of women now say they support the law.
None of this comes as much of a surprise, especially to anyone running for election next year. Congressional Democrats have already taken measures to distance themselves from the rocky launch.
Kaiser pollsters surveyed a random sample of 1,204 American adults by phone. The poll haw a margin of sampling error of plus or minus 3 percentage points, making the movement against the ACA since last month statistically significant.
Polls in the early months obviously don't mean public opinion has solidified. To underscore that point, the Kaiser Foundation also polled seniors on their opinion of the Medicare Part D drug benefit created during the Bush administration. That law, which also had a difficult debut, got an overall unfavorable reception between its passage in 2003 and the first six months that the benefit was in effect in 2006, according to Kaiser's data.
Today, 63 percent of American seniors favor Medicare Part D and just 14 percent oppose it.
Before it's here, it's on the Bloomberg Terminal.
LEARN MORE