Ukraine Halts EU Accord Plans as Focus Switches to Russia
Daryna Krasnolutska and Kateryna Choursina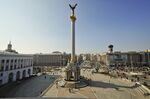 Ukraine halted preparations to sign a trade pact with the European Union next week, saying it would seek to repair ties with Russia, which had opposed the move.
The decision is aimed at "renewing lost production volumes, lost trade and economic relations" with Russia and other former Soviet republics, the government said today on its website. Ukraine will renew dialog with Russia and the other members of its neighbor's customs union to improve trade and economic ties, according to the resolution.
European governments had urged Ukraine to cement a westward course by finalizing association and free-trade agreements at a Nov. 28-29 summit in the Lithuanian capital of Vilnius. Russia, which supplies 60 percent of Ukraine's natural gas, threatened trade measures if the deal went ahead, offering membership of its customs union as an alternative. Ukraine sends about a quarter of its exports to Russia and the same amount to the EU.
"EU-Russia competition over Ukraine had simply put Kiev in a position of a shopper, looking for the best deal rather than genuinely subscribing to ideas offered by Brussels or Moscow," Lilit Gevorgyan, senior analyst at IHS Global Insight in London, said by e-mail. "The latest decision by the Ukraine before the summit puts the EU in a difficult position."
Yields Rise
The yield on the Ukrainian dollar debt due 2023 jumped 22 basis points, or 0.22 percentage point, to 9.881 percent at 6:04 p.m. in Kiev, having been lower than yesterday earlier in the session. The cost to insure Ukrainian debt against non-payment for five years with credit-default swaps rose 37 basis points to 997, according to data compiled by Bloomberg.
Ukraine entered its third recession since 2008 in the second quarter as demand for its steel exports shriveled, while reserves have plummeted. Joining Russia's customs union would shrink its current-account gap by cutting energy costs.
While economic difficulties contributed to today's decision, "unprecedented pressure" from Russia also played a part, according to former Polish President Aleksander Kwasniewski, one of the EU's main negotiators with Ukraine.
"Russians tapped the whole arsenal of possibilities they have in Ukraine," he told Poland's TVN24. "All Ukrainian presidents will want to balance between their big eastern neighbor and the West."
Russian Approval
Russia welcomed Ukraine's decision, with President Vladimir Putin's spokesman Dmitry Peskov citing a "desire to improve and develop economic cooperation" as he addressed reporters in Moscow. Putin today denied opposing Ukraine's trade deal, though he said trilateral talks must come before a decision is made, the Interfax news service reported.
While Ukrainian President Viktor Yanukovych reiterated today that his country's goal is European integration, lawmakers have repeatedly failed to pass a bill to allow jailed ex-Premier Yulia Tymoshenko to travel abroad for medical treatment, a key EU condition for the trade accord to proceed as the bloc deems her imprisonment a case of selective justice.
Yanukovych, whose 2004 victory in a presidential ballot was overturned amid the Orange Revolution that Tymoshenko helped lead, has accused her of involvement in crimes including a murder, claims she denies. He defeated Tymoshenko to become president in 2010 after serving two stints as premier.
Tymoshenko Fear
"Yanukovych clearly fears releasing Tymoshenko" before presidential elections in 2015, Luis Costa, an emerging-markets strategist at Citigroup Inc. in London, said by e-mail. "It's time to partially take profits in Ukrainian bonds for those who bought at the lows a couple of months ago."
Ukraine halting preparations to sign the pact is "logical," with the Tymoshenko demand representing "a mine the EU laid itself," according to Alexei Pushkov, head of the foreign-affairs committee in Russia's lower house of parliament.
"Setting Tymoshenko free would have given the EU a chance to work against Yanukovych in 2015 elections, and ''for a political leader, this is suicide,'' he said by phone.
Yanukovych currently trails world heavyweight boxing champion Vitaly Klitschko in polls for the presidency.
Ukraine's actions may be a negotiating ploy to help garner financial aid, according to Liza Ermolenko, an emerging-markets analyst at London-based Capital Economics Ltd.
''There have been some suggestions in the media that policymakers are just trying to raise the stakes,'' she said by e-mail. ''The key in all this is that until the summit next week there's not much point trying to guess what Ukraine is going to do.''
EU Enlargement Commissioner Stefan Fule canceled a planned trip to Kiev today, the DPA news service reported, citing his office. Even so, German Foreign Minister Guido Westerwelle said the bloc's offer of the treaty with Ukraine still stands.
''The ball is now in Ukraine's court -- it has its own sovereign right to choose its path freely," Westerwelle said in a statement. "We want to have a Ukraine that shares our values and joins us on the path toward greater freedom and prosperity."
Before it's here, it's on the Bloomberg Terminal.
LEARN MORE