Microsoft Wants to Sell You an Anti-Google Mug
By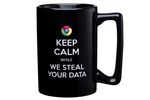 Last week, Microsoft warmed Twitter's heart by congratulating Sony on its PlayStation launch. Lest you think that the company's kindness toward competitors was becoming systematic, consider this: Microsoft now sells merchandise accusing Google of abusing its access to customer data.
Microsoft is selling mugs, T-shirts, and hats emblazoned with mottoes like "Keep calm while we steal your data." The items weren't completely public, it seems. Until tech blogs began linking to the page directly on Wednesday, there was no obvious way to find them. Marketing Land speculated that this could mean the products were meant for sale only to Microsoft employees; another explanation could be that the company wasn't quite ready to roll this out.
The Scroogled campaign has been around since last year, and has been an unusually aggressive attack on a competitor, betting that Google's privacy policies are a real weakness. Of course, Microsoft hasn't been immune to questions about its own approach to consumer data; its name has been dragged through the mud right along with the rest of America's consumer tech industry over their role in the National Security Agency's data collection.
Meanwhile, the NSA has been at the center of a coffee mug/consumer privacy controversy of its own. The agency, along with the Department of Homeland Security, issued a cease-and-desist letter against Dan McCall, a man who was making merchandise poking fun at them, saying that he did not have the right to use the organizations' seals on T-shirts and mugs with slogans like "The NSA: the only part of the government that listens." Last month, McCall sued the government, saying he had a First Amendment right to mock them. Microsoft's merchandise does use the logo for Google's Chrome Web browser. We'll see how the search giant reacts.
Before it's here, it's on the Bloomberg Terminal.
LEARN MORE