pursuits
McMuffins and a Side of Lewd Rap at a British McDonald's
By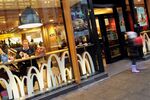 McDonald's has apologized to a customer at one of its British restaurants who was startled to hear an X-rated rap song blaring over the sound system during breakfast.
The four-minute track, Only 17 by American rapper Rucka Rucka Ali, includes explicit references to underage sex and prison rape. "The lyrics are disgusting," Steve Davidson, who heard the song while having breakfast with his toddler grandson on Nov. 15 at a McDonald's in the Welsh town of Haverfordwest, told the newspaper Metro. "It certainly shouldn't be playing in a restaurant where they sell Happy Meals to children."
A McDonald's spokeswoman told Bloomberg Businessweek that a night-shift worker had inadvertently left his personal music player plugged into the sound system the night before. "The content and lyrics were wholly inappropriate and had no place in McDonald's," she said. "Management have spoken to the crew member involved."
The spokeswoman said that most McDonald's outlets use "external music providers dedicated to creating playlists that have been thoroughly screened for appropriateness. We apologize to Mr. Davidson for this isolated lapse in our rigorous standards."
Rucka Rucka Ali, however, is not apologizing:
On his Twitter feed, the rapper added: "I hope Ronald McDonald is ready to apologize."
Before it's here, it's on the Bloomberg Terminal.
LEARN MORE