business
'Little Box' Stores Vie for Black Friday Shoppers
By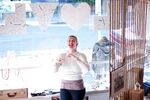 Three years ago, American Express claimed the Saturday after Thanksgiving as Small Business Saturday, enticing shoppers with rebates if they swiped their AmEx cards at local independent stores the day after Black Friday's big-box doorbuster sales. The next year, shopkeepers in Portland, Ore., asked: Why not make Black Friday for small business, too?
Betsy Cross, co-owner of northwest Portland jewelry boutique betsy & iya, got the idea when she was home sick with a cold in November 2011, watching pervasive TV ads for Black Friday sales at big-box chains. With her husband and business partner Will Cervarich, Cross recruited 90 Portland shops to join a promotion they called Little Boxes. They printed shopping maps, pooled money for advertising, and raffled off prizes donated by retailers. Customers racked up raffle tickets at each stop on the route where they made a purchase on Black Friday.
The couple considered doing the promotion in conjunction with Small Business Saturday instead, aware that some consumers would migrate to the malls on Black Friday rather than neighborhood boutiques. But they also gambled that another breed of shopper native to Portland—the indie type who doesn't set foot in Wal-Mart—might embrace the idea. "It rubs me the wrong way to say, 'Go to the big-box stores on Friday but make sure you come to our stores on Saturday, and come with your AmEx card out,'" Cervarich says. "Why should we be the afterthought for people?"
The shops enjoyed strong turnout on Black Friday, and last year they stretched the Little Boxes promotion to cover both Friday and Saturday. The couple is careful to say they have no problem with AmEx and appreciate the company's Small Business Saturday promotion. Little Boxes was even mentioned on AmEx's forum for small business owners last year. And they don't want to badmouth big-box stores either. "We want everybody to do well this holiday season," Cervarich says.
This year, at least 180 shops joined the Little Boxes promotion, which will again span the two days after Thanksgiving. Portland's independent stores aren't ready to cede the marketing oomph of Black Friday to larger retailers alone. "It's never ever been our mission or goal to actually try and compete with them. How could we?" Cross says. "We want to run with the energy that already exists around Black Friday."
Before it's here, it's on the Bloomberg Terminal.
LEARN MORE