Iran Talks Resume After Negotiators Cite Little Progress
Jonathan Tirone, Indira A.R. Lakshmanan and Kambiz Foroohar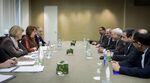 Talks aimed at resolving the dispute over Iran's nuclear program resumed in Geneva after negotiators for six world powers failed to make progress yesterday.
Envoys' stumble in trying to reach a first-step agreement to ease the decade-old standoff over Iran's atomic ambitions, reduced the likelihood that foreign ministers will arrive to sign an agreement. Differences remain over the extent to which powers can recognize Iran's uranium-enrichment work, which the United Nations Security Council has ordered to be stopped.
"They understand that if no agreement is reached this time, it will be hard to maintain momentum," Ali Vaez, an Iran analyst at the International Crisis Group, said in an interview in Geneva. "None of the remaining obstacles are insurmountable."
Talks between Iranian Foreign Minister Mohammad Javad Zarif and European Union foreign policy chief Catherine Ashton, who's representing the six powers at the talks, adjourned this morning after more than seven hours of consultations over two days. The six nations negotiating with Iran are China, France, Germany, Russia, the U.K. and the U.S.
After talks broke up yesterday, Zarif's deputy Abbas Araghchi told reporters that because negotiators "made no progress," the prospect of other foreign ministers attending the talks had been diminished. Iran tempered those comments after this morning's meeting with Ashton.
Oil Rises
"We are negotiating our differences and we have made considerable progress," Zarif said in a statement. The current Geneva round of negotiations, the third in six weeks, has been "positive" and may be extended, said Majid Takh-Ravanchi, another Iranian envoy, who spoke in an interview.
West Texas Intermediate crude oil headed for the first weekly advance in almost two months as the talks faltered. Futures were stable in New York after the January contract rallied 1.7 percent yesterday. WTI for January delivery was at $95.36 a barrel in electronic trading on the New York Mercantile Exchange, down 8 cents as of 12:49 p.m. London time.
The envoys are trying to strike a first-step accord that would give negotiators six months in which to win a broader agreement over Iran's nuclear work. Israel and the U.S. have said they don't rule out a military strike on Iran to prevent it from obtaining a nuclear weapon. The Persian Gulf nation of 80 million people, which controls the world's fourth-largest proven oil reserves, says it's not seeking a nuclear bomb and wants trade sanctions lifted.
Defining Parameters
Negotiators haven't agreed yet on language defining parameters for Iran's disputed uranium enrichment, the separation process that yields fissile material that can be used to generate nuclear power or weapons.
"Some of the countries have a different interpretation on enrichment rights," Takh-Ravanchi said in Geneva.
Before entering this week's talks, Zarif offered to compromise on the issue, saying last week there's no necessity for formal recognition of the right because it's self-evident in the Nuclear Non-Proliferation Treaty. Article 4 says countries have an "inalienable right" to nuclear technology.
The Obama administration says the treaty gives no explicit right to enrichment, though officials have said it would be possible to settle on terms for Iran to maintain a domestic program, as long as it is verifiably for peaceful purposes only.
First Step
"Language in the accord doesn't need to say whether the powers are condoning enrichment or not because it's only a first step," said Vaez, who focuses on ways to safeguard Iran's nuclear activities. "It will be difficult recreating the favorable circumstances that exist for an accord if they cannot agree by the end of the year."
The sides continue to disagree on four or five issues even after reaching accord on other sticking points left over from the last meeting, according to a Western diplomat who asked not to be identified because of the sensitivity of the talks. Foreign ministers may still fly to Geneva to sign a deal if language can be worked out today, the envoy said.
Iran's Zarif is due back in Tehran by Nov. 24 for the start of an Economic Cooperation Meeting of regional trading partners, according to Iranian diplomats.
Failure to strike an accord increases the prospects that U.S. legislators will seek to impose additional sanctions.
Senate Majority Leader Harry Reid, a Nevada Democrat, said in Washington yesterday that, while he supports the negotiations in Geneva, the Senate will be prepared to push for "a bill that would broaden the scope" of sanctions when lawmakers return in December from a Thanksgiving holiday break.
U.S. Poll
A group of 14 senators from both political parties issued a statement yesterday pledging to "work together to reconcile Democratic and Republican proposals over the coming weeks and to pass bipartisan Iran sanctions legislation as soon as possible."
The U.S. public backs an interim agreement along the lines being considered in Geneva, with 56 percent in favor to 39 percent against, according to a poll carried out by ORC International for CNN television and published yesterday. The poll based on 843 interviews cited a margin of error of plus or minus 3.5 percentage points.
The accord would deliver Iran limited sanctions relief from trade in gold, autos, petrochemicals and civilian-aircraft parts in exchange for a verified halt to some elements of its nuclear activities, according to diplomats.
Opponents of the proposed agreement include Israeli Prime Minister Benjamin Netanyahu, who has said it would ease sanctions too much. Yesterday in Geneva, a U.S. official involved in the talks dismissed concerns that an interim deal would weaken the sanctions regime.
Before it's here, it's on the Bloomberg Terminal.
LEARN MORE