Chromecast Gets HBO Go—and Google Gets a Small Win With TVs
By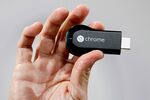 Chromecast is an appealing, simple approach to streaming Internet video. The little device made by Google plugs into the back of a TV, allowing users to send video from a Web browser to the bigger screen. Solving the technical aspects of Internet TV hasn't been the hard part for Google, which has already tried and failed twice to gain a toehold inside televisions. So the ability to run HBO's app through Chromecast, announced on Thursday, is an indication that maybe the third attempt will be a charm after all.
Access to content continues to be the major stumbling block for Silicon Valley companies making TV-related products. Content owners are wary of undermining their lucrative deals with broadcasters and cable providers, who pay them to carry their channels. This reluctance has led to technological solutions such as Aereo's antenna farms, and potential legislative measures like U.S. Senator Jay Rockefeller's (D-W.Va.) new proposal to counter anticompetitive practices limiting Internet television.
Google's first attempt to create an Internet-connected TV fell flat after it drew a hostile response from content companies. Intel also recently decided that butting its head against Hollywood was an exercise in futility.
Getting HBO to make content from its Go service available on Chromecast is a small step, and one that stops far short of clearing a path for people who want to get rid of their cable subscriptions while keeping HBO. At this point, the premium cable network seems to be getting pretty comfortable with providing HBO Go on a variety of platforms. People want to watch Game of Thrones anywhere they please. The fact that Chromecast can offer it is an incremental step forward, and Google can take comfort that this time, at least, its Internet TV technology appears to be headed in the right direction.
Before it's here, it's on the Bloomberg Terminal.
LEARN MORE