Uh-Oh: Boeing's Huge Cargo Plane Lands at Tiny Airport by Mistake
by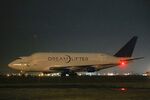 At least they found Kansas. A heavily modified 747 used by Boeing to transport parts of its 787 Dreamliner landed at the wrong airport in Wichita, an embarrassing mistake that led to a flurry of technical calculations to determine whether the gigantic cargo plane could depart.
The 747 Dreamlifter, operated by Atlas Air, was on a regular shuttle flight yesterday from Grottaglie, Italy, where a Boeing partner makes 787 fuselage sections. The cargo plane had stopped in New York for three hours before continuing to Wichita and landing on Wednesday night. Unfortunately, the flight crew chose Colonel James Jabara Airport, a small airport with a 6,100-foot runway that's not designed for large aircraft. There are three airports on the east side of Wichita, including the plane's intended destination, McConnell Air Force Base.
Boeing assembles the front sections of the 787 in Wichita and has a fleet of four Dreamlifters to ferry sections of the new plane. Atlas Air has filed a flight plan for an eight-minute flight across Wichita on Thursday afternoon, according to FlightAware, which tracks air traffic.
Before it's here, it's on the Bloomberg Terminal.
LEARN MORE