Worried About That 787 You Ordered? Hire a Factory Babysitter
by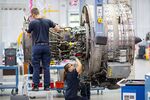 Large buyers of airplanes—think Southwest, Emirates, and All Nippon Airways—typically station employees at the builders, such as Boeing and Airbus, to help oversee the smooth flow of their new jets. If, however, you're a smaller airline or buying just a few planes, you may not have the technical staff or financial need for this type of on-site arrangement. Lufthansa Technik, one of the world's largest airplane maintenance firms, has just the thing for such situations: a production-inspection service that places its employees at Airbus and Boeing plants to watch over your jet as it's built.
Lufthansa Technik recently touted the addition of Boeing's 787 Dreamliner to its factory babysitting service and said it has received commissions to oversee the construction of 50 787s. The Hamburg-based company has 15 employees at Boeing's assembly plants around Seattle and plans to place workers at the company's 787 line in South Carolina early next year, Technik spokesman Wolfgang Reinert said in an interview. The observers started as part of Lufthansa Airlines and migrated to Technik—the company's maintenance, repair, and overhaul division—about eight years ago. Technik handles the production inspection for Lufthansa's new 747-8 jumbo jets, for example.
While a new $320 million 777-300ER or $91 million 737-800 are standard models constructed to precise specifications, Boeing spokeswoman Debbie Heathers says that "each build plan is very detailed and customized for each buyer." Details from lighting and fabrics to the on-board bathrooms may require consultation or changes, and having an airline representative at the factory can make the assembly job more efficient.
Airbus and Boeing accommodate the staff from Technik, which is not itself a customer, just as they would monitors from an airline. "It's a matter of trust and good cooperation. They know that these guys from us are experts, and our guys respect the production stages and all the structures and all the processes at Boeing," Reinert says. "They have accepted that it's necessary, because the customer wants to see a representative there at the production site."
Before it's here, it's on the Bloomberg Terminal.
LEARN MORE