The Rise of the Rob Ford Idiocy-Industrial Complex
By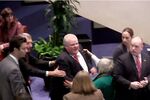 Toronto's tragicomic Mayor Rob Ford may have capped six months of political self-immolation with a Maple Leafs-worthy body check of an elderly fellow city councilor this week. The collision came during a raucous session at city hall that stripped Ford of more than half his office budget (leaving him as leader in title only), and during the proceedings he managed to compare himself with Kuwait being invaded by Saddam Hussein's Iraq. Still, the bumbling politician everyone loves to joke about has vowed to remain in office, fighting for taxpayers.
Although Ford has stated that his fiscal record as a penny-pinching leader is sound—read my earlier article to see why it's not—the legacy of the Rob Ford train wreck has actually, for some lucky individuals, been a financial windfall. Gawker, the website that first broke the story of the Rob Ford crack video in May, subsequently raised $201,204 through a crowdfounding campaign they dubbed "Crackstarter," to purchase said video from its purported owner. The filmmakers soon disappeared and were later arrested in a police sweep on Somali drug gangs, so Gawker donated the funds to four Toronto charities, minus nearly $15,000 in fees that went to PayPal and Indiegogo. So, congratulations PayPal and Indigogo.
Meanwhile, Toronto police had launched an extensive investigation of the mayor and his sometime driver, Alessandro "Sandro" Lisi. The investigation involved dozens of officers, cars, surveillance cameras, wire taps, and even a small airplane, which trailed Ford and Lisi over several months, at great cost to the force. Toronto police will not comment on the figure, because the investigation continues. Today the Toronto newspaper The Grid published a rough estimate of Crackgate's total cost thus far: More than C$1 million, with Ford's other scandal-related costs (overtime for city staff to deal with the crisis, raises to encourage his office staff to stay with him, time his staff spent coaching football) at well more than C$200,000. Those are Canadian dollars, but still.
As the scandal hit fever pitch over the past two weeks, following the police chief's confirmation of the crack tape's existence and Ford's clumsy admission to smoking the drug, the Rob Ford online meme machine—already a well-oiled creature with a strong local following of animated GIFs of Ford's football-snap stumble and various priceless sound bites from the past three years—went global. New videos have been popping up almost hourly, from a mashup of Ford's best lines with his doppleganger Chris Farleybrilliant CGI cut-and-paste of Ford's head on the body of Jean Claude Van Damme doing the splits above two Volvo trucks.
These racked up millions of views, and along with Rob Ford television segments (from Matt Lauer's Today interview to nightly ridicule by John Stewart and Jimmy Kimmel), sensational newspaper articles, and regular Taiwanese animations (depicting Ford smoking crack with a beaver, to name but one), generated advertising revenues for its creators. Marketers caught on as well. Spirit Airlines advertised a special to nearby Buffalo with a Ford joke, while the owners of Iceberg Vodka (which, through police documents, was discovered to be Ford's favorite brand) delicately pirouetted to capitalize on the notoriety.
Perhaps that's the most fitting legacy for a man who ran as the ultimate capitalist, an engine of pure commerce. From the Rob Ford bobblehead dolls he signed for charity (now $300 and up on eBay), to the brisk secondary market in Rob Ford business cards and campaign signs, to the hamburger that was recently named after him, Ford should stand by his ability to generate gravy from his antics, for the good of all Torontonians.
Before it's here, it's on the Bloomberg Terminal.
LEARN MORE