Is Land Reform Finally Coming to China?
By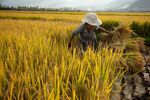 China's leaders raised a multitude of reforms as priorities at the plenum that closed a week ago. A key one, a change in land ownership so that farmers can more freely rent, sell, and mortgage their land, is hoped to boost China's still laggard household consumption.
"The Party leadership has given its blessing to land reforms that should shift more income to rural households. Change will happen slowly but the result should be a boost to consumer spending," wrote Mark Williams and Julian Evans-Pritchard, economists at London-based Capital Economics in a Nov. 20 note.
The present system dates back to the early days of the People's Republic and classifies all rural land as collectively owned. That murky status restricts farmers from selling the land they live on, while local governments are largely free to take it—sometimes forcibly—and convert it to industrial and commercial uses, providing a key source of their income.
Authorities usually sell the seized land for 18 times what they paid the farmers, estimates Li Ping, senior attorney at the Beijing office of Landesa, a Seattle-based nonprofit that focuses on land-rights issues. This contributes to rising social instability, with farmers protesting land grabs, and it keeps the rural population poor, Bloomberg Businessweek reported earlier this year.
It can't all be labeled rapacious land-grabbing, however. With local governments responsible for 80 percent of spending, including for their citizens' education, health, and pensions—but getting only about 40 percent of China's total tax revenues, according to World Bank estimates—the reliance on alternate sources of revenues such as land sales is understandable. According to China's Ministry of Finance, local governments' land-sale proceeds totaled 2.67 trillion yuan ($438 billion) last year, equivalent to more than half their total tax revenue, Bloomberg News reported on Sept. 24.
"With farmers and collectives now barred from selling rural land, expropriation of land has been a significant source of revenue for local governments," wrote the Capital Economics economists. "They rezone it for commercial, industrial or residential use, add some infrastructure and sell it on. Industrial firms are often offered land at a low price as an incentive to set up in an area. Local governments benefit by taxing these firms' activities."
The reform aims to start with so-called "rural construction land," a tiny subset of total agricultural and cultivated land (less than one-fifteenth), but that still amounts to about seven times existing urban land, estimates Capital Economics. That's enough land to give a serious boost to farmers' incomes.
Still, there is reason to believe authorities will move carefully. Taking away a key revenue source for local governments is a sensitive issue. Localities already owe lenders 9.7 trillion yuan as of midyear, according to the China Banking Regulatory Commission.
Add in the debt racked up by so-called local government finance vehicles, set up to allow localities to circumvent a ban on direct borrowing, and the total figure probably exceeds 20 trillion yuan, predicts Liu Yuhui, a researcher at the Chinese Academy of Social Sciences. Local governments' reliance on land sales and rising land prices to repay debt creates "many problems," warned People's Bank of China Governor Zhou Xiaochuan in a commentary published on the central bank's website on Sept. 9.
"A free-for-all in land sales won't happen. For a start, the Party has called for pilot schemes rather than an immediate shift at the national level," wrote the Capital Economics economists. "Scaling up will take time—an ongoing survey of who owns the rights to what land will take years to complete. Studies suggest that less than half of farmers hold the correct land use rights documents."
And this is hardly the first time we've heard about land reform in China. "Similar suggestions were made at the previous Third Plenum in 2008 but they ultimately went nowhere," pointed out Capital Economics.
Before it's here, it's on the Bloomberg Terminal.
LEARN MORE