Germany Loves Merkel, So What's Keeping Her From Governing?
By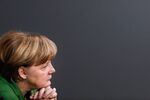 Angela Merkel won Germany's parliamentary elections by a landslide. Two months later, though, she still hasn't managed to put together a government.
Merkel and opposition Social Democrats remain deadlocked in talks to form a governing coalition, which the chancellor needs because her Christian Democratic Union forces fell short of a majority in September elections. The two sides are so far apart that some leaders are now saying new elections might have to be held. "We want these negotiations to be successful, but we aren't afraid if the voters must decide again," CDU General Secretary Hermann Gröhe said yesterday in Berlin.
Paradoxically, the Social Democrats' poor election showing—25.7 percent vs. CDU's 42.5 percent—means they have little to gain by compromising, says Roland Freudenstein, head of research at the Centre for European Studies in Brussels. The SPD is struggling to rebuild its base, he says, and making concessions to the CDU "is not popular among the rank and file." The SPD has promised to put any draft coalition agreement to a vote among its members.
At the same time, the SPD is reaching out to its left, saying for the first time that it would consider a future parliamentary coalition with a long-ostracized, far-left party descended from East German Communism. In two or three years, "when the shine is off the Angela Merkel government," Freudenstein says, the SPD might cobble together a parliamentary majority by allying with the far left and the Greens—and it's using that threat as "a form of blackmail" to increase its leverage against the CDU.
All that could explain why it's the CDU that's been doing most of the compromising in the coalition talks. The newspaper Bild says the SPD has gotten its way on 10 of 12 measures agreed so far, including rent controls and a planned financial-transactions tax. The two sides have been unable to agree on other issues, including the establishment of a national minimum wage, which the SPD favors.
The talks aren't likely to produce major changes in Germany's austerity-driven approach to managing the euro-debt crisis. The CDU is standing firm against an SPD proposal for the pooling of debt by euro zone countries. Nor has the SPD made headway with an effort to strip the pro-austerity finance minister, Wolfgang Schäuble, of his role in euro policymaking.
Despite the current stalemate, it looks unlikely that Germans will be going back to the polls soon. Public opinion surveys suggest that the SPD would fare even worse in new elections than it did in September, while the CDU would face the risk that smaller factions, including the anti-euro Alternative for Germany party, could pick up parliamentary seats. "No one really wants new elections," Freudenstein says.
Before it's here, it's on the Bloomberg Terminal.
LEARN MORE