Boeing's New 777X Is a Hit. Now What About the Old One?
by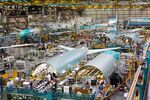 Boeing dominated the Dubai Air Show this week with a record haul of 259 orders for its new, long-range 777X, worth nearly $100 billion at list prices. What could prove to be a problem is that the new jets won't be delivered for more than seven years, leaving Boeing to sell current versions of its 777. An analyst downgraded Boeing today to "market perform," citing the lack of a financial "bridge" between the two jets.
"The launch of the 777X appears to have left the 777 program, which accounts for an estimated quarter of BA's total profit, in the lurch," Oppenheimer & Co. analyst Yair Reiner wrote in a note to clients. "The 777 needs to hold down the fort for six-seven years until the 777X enters into service, but currently has only 3.3 years of backlog." Reiner predicted that the 777 program would see production fall by 35 percent "a few years out." The jet has collected 42 orders so far this year, down from 68 in 2012. "We see a high likelihood that 777 production will therefore need to be trimmed from 100 planes per year now to around 65 per year by 2018," Reiner wrote. "Such a scenario would significantly hamper Boeing's ability to expand free cash flow and reported earnings in the years ahead."
Boeing representatives noted the company had successfully bridged the gap between new products in the past. "We are confident in our ability to do so again," the company said in a statement. Shares slipped 2.4 percent in morning trading; the stock has gained more than 77 percent so far this year.
Back in January, Boeing boosted 777 production to 8.3 per month, up from seven, owing to strong demand for the plane. Numerous global airlines have made the 777 the cornerstone of their long-haul fleets as a result of its range, various seating options, and fuel efficient twin engines. The new 777X will enhance those qualities (PDF)—including a larger, composite-fiber wing that folds at the tips—while burning roughly 12 percent less fuel than the current 777.
Boeing delivered the first 777-200 to United Airlines in the spring of 1995 and has developed four additional variants since then. A freighter version entered service in early 2009. Boeing says the plane has a 99.3 percent dispatch-reliability rate, the highest among all twin-aisle jets in airline fleets. Time will tell if those advantages are enough to keep the program in demand during the transition to the newer model.
Before it's here, it's on the Bloomberg Terminal.
LEARN MORE