Lance Armstrong Litigation Industry Stays in Gear
Paul M. Barrett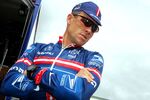 The Lance Armstrong Lawyers Full-Employment Program remains open for business. For several years, the disgraced former cycling champion—and his growing army of antagonists—have been very, very good to the legal profession.
The fee meters will continue to tick lucratively now that a federal judge has said a whistleblower lawsuit against Armstrong will almost certainly proceed. The suit accuses the fallen athlete of defrauding the government by using banned substances in violation of his team's contract with the U.S. Postal Service. Bloomberg News picks up the story from there:
U.S. District Judge Robert Wilkins said yesterday during a hearing in Washington that he's inclined to let at least part of a suit filed by Armstrong's former teammate, Floyd Landis, continue. His comments followed almost three hours of arguments for throwing out the case presented by lawyers for Armstrong and others named in the complaint. "It may be dismissed as to some defendants," Wilkins said.

The suit, filed in June 2010 by Landis, who admitted using performance enhancing drugs as a cyclist, was joined in part by the Justice Department in February. The government claims the U.S. paid about $40 million in false claims through the team's contract with the Postal Service from 1998 through 2004. Armstrong's former team, Tailwind Sports Corp., used Postal Service sponsorship fees to pay Armstrong's salary of $17.9 million during those years, according to the complaint. The U.S. is seeking triple damages.
After winning the Tour de France seven times from 1999 to 2005, Armstrong was stripped of the titles in August 2012. He acknowledged in a television interview in January that he used banned substances throughout his time on the professional racing circuit. More helpful background from Bloomberg:
The U.S. joined Landis in suing Armstrong, Tailwind and the team's former manager, Johan Bruyneel. Other defendants named by Landis, including Tailwind's founder, Thomas Weisel, were left out of the government's action. Wilkins, who said he expects to rule within 30 days, didn't indicate which defendants he might drop.

Armstrong's lawyer, Elliot Peters of Keker & Van Nest LLP, told Wilkins that the Postal Service could have chosen to investigate Armstrong after French authorities probed doping allegations against his team in 2000. Instead, the Postal Service rewrote its contract with the team to protect itself against adverse publicity, Peters said.
This race in and around the courthouse (with digressions to lawyers' banks and stock brokerages) has many laps to go.
Before it's here, it's on the Bloomberg Terminal.
LEARN MORE