Chevron's Showdown With a Plaintiffs' Lawyer Nemesis
Paul M. Barrett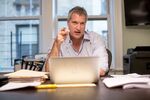 Chevron finally has plaintiffs' lawyer Steven Donziger right where it wants him: on the witness stand in federal court in New York as a defendant in a massive civil-racketeering trial. The oil company's feud with the activist attorney began in the very same court almost exactly 20 years ago; we'll come back to that history in a moment. First, a few glimpses of what transpired on Monday in a 21st-floor courtroom off Foley Square in lower Manhattan.
"We meet again, Mr. Donziger, good afternoon," Chevron's lead outside lawyer, Randy Mastro, said by way of greeting. It was the start of a blistering cross-examination, one that Mastro, a former federal mob prosecutor and now a partner with Gibson, Dunn & Crutcher, undertook with palpable relish. Chevron is suing Donziger to undermine a multibillion-dollar oil-pollution verdict the New York-based solo practitioner won in 2011 on behalf of thousands of poor farmers and indigenous residents of the rainforest in northeastern Ecuador.
In an trial that has already lasted more than a month, Chevron has presented a series of witnesses, several of them former allies of Donziger's, who have testified that he used deception, bribery, and coercion to secure a liability finding that Ecuador's top court  upheld last week, even as it halved the damages, from $19 billion to $9.5 billion. Donziger has denied wrongdoing while admitting that he hasn't always been forthcoming about his tactics.
During the first 90 minutes of what's expected to be many hours of interrogation, Mastro tried to establish that Donziger has only a fleeting familiarity with the truth. In written direct testimony, Donziger had minimized his role in the Ecuadorian case; Mastro confronted him with his own past statements about "running" the litigation, "supervising" the trial strategy, and standing "at the epicenter" of an historic environmental clash between a mighty multinational and powerless Latin American peasants. Under the civil provisions of the Racketeer Influenced and Corrupt Organizations Act, known as RICO, Mastro is attempting to show that Donziger was the kingpin in an illegal "enterprise" designed to extort an enormous settlement from Chevron. Donziger contends that his enterprise was merely a lawsuit, and a righteous one at that.
To erode Donziger's professions of self-sacrifice, Mastro quizzed the plaintiffs' attorney about his potential compensation. Even under the reduced $9.5 billion damage amount, Donziger acknowledged, he would stand to collect more than $600 million in contingency fees. In response to Mastro's questions, Donziger also acknowledged that he and the financiers of his lawsuit had arranged to route their winnings to a trust in Gibraltar, a Mediterranean tax haven. Javier Piaguaje Payaguaje, a leader of the Secoya indigenous group in Ecuador and one of Donziger's clients, testified immediately before the lawyer that he was unaware that any potential winnings would end up in Gibraltar.
In his written direct testimony, Donziger said that the 2011 verdict "represents a profound historical accomplishment of indigenous and farmer communities in securing justice for wrongs inflicted upon them by one of the most powerful corporations on the planet." The Ecuadorian verdict held Chevron responsible for contamination attributed to Texaco dating to the 1970s and 1980s. Chevron, which acquired Texaco in 2001, contends that its merger partner fulfilled all its contractual obligations to clean up the Amazonian environment and that any remaining pollution is the responsibility of Ecuador's state-owned oil company, Petroecuador. Chevron alleges that to shirk Ecuador's duties, officials there conspired with Donziger to shift blame to an American company, taking advantage of a corrupt Ecuadorian judicial system.
The ironies in this epic clash run deep. Years ago, Texaco praised the Ecuadorian courts as bastions of due process. In 1993, when Donziger and other lawyers first sued Texaco in New York, the oil company responded by seeking to transfer the case to Ecuador. The evidence and the alleged victims were all in the small Andean nation, and Ecuador's judges were perfectly capable of sorting out complicated liability questions, Texaco maintained. The purely procedural struggle over where to have this fight lasted for nine long years, and eventually Texaco convinced the federal court in New York to dismiss Donziger's case with the proviso that it could be started again in Ecuador.
Once the field of battle shifted south, Chevron protested that the Ecuadorian courts that Texaco so admired were actually cesspools of deceit. When Chevron lost in Ecuador, it brought the clash back to its starting point in lower Manhattan, where Donziger's testimony is expected to continue today.
Before it's here, it's on the Bloomberg Terminal.
LEARN MORE