A Shiny New Bottle Is No Way to Revive Bud Light
By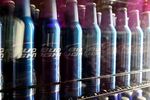 Anheuser-Busch InBev executives sounded anxious at a meeting with journalists last week. Top officials from the company that makes Bud Light, America's top-selling beer, said they were investing $150 million to create a new 16-ounce aluminum screw-top bottle in the hopes of halting the decline of its U.S. market share. Paul Chibe, AB InBev's head of U.S. marketing, spoke philosophically about the company's sales challenge: "We need to continue to evolve what Bud Light stands for," he said, according to Bloomberg News. "We're taking our time. It's not an easy job."
That AB InBev officials are engaging in such public introspection is a sign that they're fearful about their biggest brand—as they should be. According to Beer Marketer's Insights, Bud Light's U.S. market share has dwindled from 19 percent in 2010 to 18.5 percent in 2012. The decline of Budweiser, the onetime King of Beers, has been more dramatic. Its share dropped to 7.9 percent from 8.7 percent over the same period.
In response, AB InBev has inundated the market with Bud Light spinoffs, including Bud Light Platinum, Lime-A-Rita, and Straw-Ber-Rita. It will release raspberry- and mango-flavored versions early next year. Inevitably, perhaps, the spinoffs have cannibalized the mother brand. "Bud Light suffered a bit, and we don't like it," Luiz Edmond, AB InBev's North American president, told Bloomberg. "We're going to fix it."
The shiny, metallic Bud Light bottle is part of the brand resuscitation plan. Chibe said customers believe the new bottle is "more premium, more refreshing." (Yes, he really said those words.) AB InBev plans to support the rollout with Super Bowl ads. New packaging and expensive TV ads: How could this fail?
Easily. Americans are increasingly choosing beer based on taste rather than how it's packaged and promoted. That's why craft beer sales are surging. AB InBev may be brilliant at mergers and acquisitions and cost control, but it doesn't seem to be as good at employing old-school sales tactics as Anheuser-Busch was before the Belgian-based brewer swallowed it up in 2008. That's presuming such tactics can still work at all.
Perhaps it would be more advisable for AB InBev to follow Pabst Blue Ribbon's lead. Don't waste a lot of money on TV ads and new bottles. Peddle Budweiser and Bud Light to young drinkers as hip, retro brands instead. PBR's market share is a fraction of Bud Light's, but it grew 17.2 percent last year, according to Beer Marketer's Insights. There's a future there. Bud Light's future isn't so clear.
Before it's here, it's on the Bloomberg Terminal.
LEARN MORE