A Guide to Obamacare's Backstop for Anxious Insurance Companies
By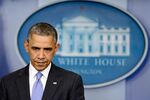 When President Obama said last week that insurers could extend for another year health plans that fall short of the Affordable Care Act's minimum standards, actuaries had "an old-fashioned freakout," says Elaine Corrough, a fellow of the Society of Actuaries who consults with health insurers. The reversal, a response to public anger over a wave of cancellations this fall, added another layer of uncertainty for insurers already unclear about whether they will collect enough in premiums next year to cover medical claims.
The White House told insurers not to sweat it. "Though this transitional policy was not anticipated by health insurance issuers when setting rates for 2014, the risk corridor program should help ameliorate unanticipated changes in premium revenue," wrote Gary Cohen, the Health and Human Services official overseeing much of the health law's implementation, in a letter (PDF) to insurance regulators. He suggested the program could be modified to soften the blow.
The risk corridors are part of an obscure set of Obamacare rules intended to protect insurance companies from deep losses if they sign up too many sick people—an insurance policy for insurance companies. It's one of the so-called Three Rs—reinsurance, risk adjustment, and risk corridors—meant to backstop health plans through byzantine adjustments in the transition to a new marketplace where carriers can't turn sick people away.
Here's how the Three Rs work. Reinsurance pays insurance companies much of the cost after a patient's medical costs exceed $60,000 per year, drawing on a $10 billion pot of money for next year funded by a $63 tax on every single health plan. The program collects even from large, employer-sponsored coverage but only makes payments to help individual and small-group plans. "It's really transferring money from the group market to the individual market," says Hans Leida, an actuary at consulting firm Milliman. The temporary program is meant to keep rates down, which means they'll go up as it phases out over the next three years.
After insurers tally the claims they pay out in 2014, another program known as risk adjustment takes some premium money from health plans that paid out less than average—that is, their members were generally healthier—and gives it to plans with higher medical claims. This Robin Hood-style redistribution takes away insurers' incentives to recruit only healthy, low-risk people. It's permanent and meant to be a zero-sum program to spread risk across carriers.
The third program, called risk corridors, is a temporary way to limit insurers' potential losses and profits. It applies only to insurers selling plans on the health exchanges. The mechanics are complex, but the gist is this: If it turns out a health plan set its rates too high—collecting much more in premiums than it paid out—the carrier pays a portion of the excess to the government. On the other hand, if insurers set rates too low, the government will backstop some of their losses. "It's sort of a safe harbor for actuaries to not have to price too high to make sure they don't get it wrong," says Joel Ario, former director of the federal Office of Health Insurance Exchanges now working with advisory firm Mannatt Health Solutions. "That program then could cost the federal Treasury some money, or it could give the Treasury some money."
Though the Congressional Budget Office predicted that Obamacare's Three Rs would be budget-neutral—a wash—that changes if the risk pool is tilted with people who need more medical care. That prospect led Republican Senator Marco Rubio of Florida to float a bill killing the risk corridor program. In a Wall Street Journal op-ed, he says it enables a "taxpayer-funded bailout of the health insurance industry."
Rubio's bill is unlikely to become much more than a talking point. But the political fervor around Obamacare compounds the uncertainty for insurers, who are already trying to gauge the impact of the stunted healthcare.gov debut and the myriad other changes to the insurance market that take effect on Jan. 1. "The world that we live in as actuaries right now," says Milliman's Leida, "is difficult."
Before it's here, it's on the Bloomberg Terminal.
LEARN MORE