Timothy Geithner and Why the Revolving Door Might Be a Good Thing
By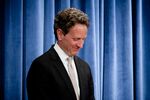 Early on Saturday morning, after most of the Internet had logged off for the weekend, the private equity firm Warburg Pincus let it be known that former Treasury Secretary Timothy Geithner would be joining the company as president. The timing of the announcement suggests the firm was hoping no one would really notice, but this was unrealistic. And sure enough, concerns about a "revolving door" between Washington and Wall Street, where ex-government officials often go to make fortunes by exploiting their Washington relationships and access, have started to surface surrounding Geithner's news. Over at the New Republic, Noam Scheiber, for one, called the move "corrosive."
But is movement from Washington policymaking to the financial sector always such a bad thing?
The argument could be made that government jobs would attract an entirely different caliber of person if they didn't hold out the possibility of a coveted private-sector gig and cushy paycheck at the end of them. But because this track exists, ambitious people with fancy degrees from good schools who would otherwise pursue other options might choose to earn less money working for the federal government, at least for a time. Of course there's potential for corrosion inherent in the relationship, but there are benefits to this private-sector subsidy, too.
Geithner is hardly the first high-level government official to travel this path. One of his predecessors in Treasury, Robert Rubin, joined Citigroup after leaving the Clinton administration; John Snow, another former Treasury secretary under George W. Bush, works for Cerberus Capital Management; David Petraeus, the four-star general and former head of the CIA, just joined KKR; and the private equity giant Carlyle Group has vacuumed up all sorts of former White House folks. Alan Greenspan, the chairman of the Federal Reserve from 1987 to 2006, signed on as a consultant to Pimco, Deutsche Bank, and the hedge fund Paulson & Co. shortly after leaving the Fed.
Geithner has an electric reputation as one of the most highly respected, and most criticized, figures from the financial crisis. He became Treasury secretary in 2009 under President Obama and quickly became associated with the much-maligned TARP bailout program, which he supervised. During his time at Treasury, Geithner did push for the elimination of the controversial "carried interest loophole," which allows private equity firms and hedge funds to pay much lower tax rates on much of their earnings.
Warburg Pincus, the firm Geithner is joining, is privately held and manages $35 billion in assets, with positions in 125 different companies. Last year it sold Neiman Marcus, the luxury retail store, to a group of investors for $6 billion, and conducted the $8.7 billion sale of Bausch & Lomb Holdings to Valeant Pharmaceuticals.
"When they approached me, they clearly wanted me to play a substantive role in helping them manage the firm," Geithner told the Wall Street Journal, adding that the company was "low-key" and "culturally very compatible with what I was looking for."
Before it's here, it's on the Bloomberg Terminal.
LEARN MORE