A Supreme Reckoning for Securities Class Actions
Paul M. Barrett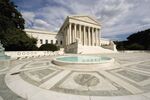 This could be the big one. For years the conservative majority of the Supreme Court has thrown up barrier after barrier to class-action lawsuits. Now the justices have taken a case giving them the chance to shut down a big part of the plaintiffs' bar alleging securities fraud.
The high court agreed on Friday to hear an appeal by Halliburton asking the high court to overturn a 1988 precedent that made it much easier for shareholders to band together to allege corporations have defrauded investors. The precedent, Basic v. Levinson, said that shareholders didn't have to show that they had made investment decisions in reliance on a company misstatement. Instead, Basic enshrined the concept of "fraud on the market," which assumes that misleading corporate assertions are reflected in a company's stock price.
My Bloomberg News colleague and Supreme Court guru Greg Stohr ably fleshes out the potential significance of the Halliburton case:
"Real-world experience has crippled the theoretical underpinnings of Basic," argued Halliburton, which is battling a suit accusing the company of distorting its financial condition. Four justices—Antonin Scalia, Clarence Thomas, Anthony Kennedy and Samuel Alito—suggested in a ruling in February that they might jettison the "Basic presumption," as it has become known. The outcome of the case may be in the hands of Chief Justice John Roberts, who usually joins that group in ideologically divisive cases.

The shareholders suing Halliburton urged the court not to hear the case, arguing that the presumption "is crucial to private securities actions" and has been repeatedly endorsed by Congress, the Securities and Exchange Commission, and the Department of Justice. "A reversal of Basic v. Levinson would represent the most radical change in the private enforcement of the federal securities law in a generation and would be a severe blow to investors' rights," said Daniel Sommers, a Washington securities lawyer at Cohen Milstein Sellers & Toll, which focuses on pressing class-action litigation.
Sommers, a savvy litigator, has an interest in making the demise of Basic sound catastrophic. It would cut deeply into his lucrative law practice. Such an outcome could also diminish a source of deterrence to corporate dishonesty.
The argument on the other side is that too many securities class actions are based on frivolous claims. Such lawsuits, the boardroom contention goes, require multimillion-dollar settlements that ultimately are paid by—wait for it—companies' shareholders.
There's some truth on both sides. Keep an eye on this one, because if the Supreme Court continues its campaign against class actions, life in courthouses across the country will change dramatically. The justices are expected to rule by late spring or early summer.
Before it's here, it's on the Bloomberg Terminal.
LEARN MORE