Guiding Chinese Tourists Through Beverly Hills' Rodeo Drive
By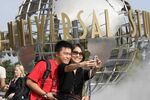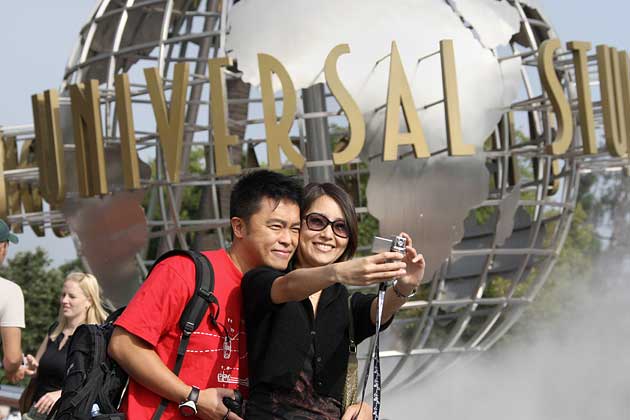 California's tourism businesses are cashing in on growth across the Pacific: China became the state's No. 1 overseas visitor market last year, overtaking the U.K. In 2012 an estimated 677,000 Chinese tourists spent almost $2 billion in California, a 31 percent increase over 2011.
The numbers are on track to grow by double digits again this year, according to hospitality industry group Visit California. Almost half of all Chinese visitors to the U.S. go to the state, the group says. While large hotels, brand-name retailers, and theme parks such as Disneyland and Universal Studios attract the cross-Pacific visitors, an increasing number of small, largely immigrant-owned businesses are also vying to sell tours, meals, and merchandise to Chinese tourists.
Take Therese Liu, a Taiwanese native who arrived in the U.S. as a student in 1993. After working in marketing and as a hospital interpreter, she started a shopping tour business in 2010 that uses the tag line "Dim Sum and Then Some." At least three times a week, Liu guides wealthy Chinese visitors through the high-end retailers on Beverly Hills' Rodeo Drive, navigating them through stores such as Louis Vuitton, Gucci, Prada, and Rolex. She charges $50 a head ($40 for groups of four or more) for half-day tours and gets commissions of 5 percent to 20 percent from the retailers, depending on what and how much is purchased.
Managing expectations can be a challenge. "The first question every Chinese person asks—no matter where they are from—is 'Can you get me a discount?'" Before the expeditions begin, Liu explains that Rodeo Drive sales clerks will not bargain on price. The good news, she tells them, is that they can trust that all the merchandise they buy is real. When she secures them glasses of champagne and bonus gifts, Liu's clients come away happy. Even those who don't open their wallets usually get product samples handed out in branded shopping bags that become coveted status symbols back home.
Liu is often called on to speak to retailers eager to capture the new tourists, who spend on average $6,000 each while in the state. She tells them to stock iconic American-made brands, particularly watches, gold jewelry, health supplements, and red wine—along with suitcases to carry the purchases home. Uncensored Mandarin-language newspapers and magazines, as well as pornographic magazines and sex toys, are also highly coveted, she says: "There's a lot of curiosity."
That spills over into almost every sector, including local government. Jennifer Davis is the director of community development for the city of San Gabriel, which was once known for being the home of the Mission San Gabriel, founded in 1771. Now, the Los Angeles County suburb of 40,000 residents is an epicenter of Chinese tourism, with more than 100 Chinese restaurants lining a one-mile commercial strip, six Chinese grocery stores, and 33 Asian banks, Davis says.
Many visitors ask to tour City Hall. "The mayor or one of the council members will take them through. They're fascinated with how local government works here," she says.
Roger Tsai, who emigrated to the U.S. from Taiwan 30 years ago as a graduate student, runs a Chinese-language website that markets iPads and computers from his Right Track Computer store in San Gabriel alongside links that would-be visitors can use to book one- to three-day tours to outlet malls, local attractions, and Las Vegas. He started the website five years ago and says it is known throughout China.
Before they leave, visitors often fulfill their social obligation to buy gifts for neighbors, relatives, local officials, colleagues, and supervisors. Some buy large numbers of popular products and resell them when they get home, Liu says, because even luxury goods purchased in California cost about one-third of what they cost in China, because of import taxes. "They buy what they need, stick it all in the suitcase, and head to the airport," says Peter Choi, president and chief executive officer of the Temple City Chamber of Commerce, another Los Angeles suburb increasingly popular with tourists from Asia.
The immigrant business owners know not to judge customers on what they are wearing, but Liu says she often has to remind American-born retailers that Chinese tourists wearing casual vacation clothes may be wealthy individuals. "Someone who looks like a country bumpkin may be a big shopper buying for his entire village," Liu says. "I had one woman who shopped Rodeo Drive from 10:30 a.m. to 5:30 p.m. She spent $30,000 in one day."
Before it's here, it's on the Bloomberg Terminal.
LEARN MORE