Boeing Says Worker Conflict Won't Put 777x Schedule in Jeopardy
Robert Wall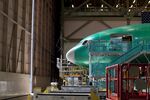 Boeing Co. said a conflict with workers over the production site of its upgraded 777X won't jeopardize the schedule for the wide-body jet as it studies alternative factories and cooperation with partners.
The choice of where to build the new 777X composite wing and assemble the plane will be made "over the course of the next several months," Boeing Commercial Airplanes President Ray Conner said today in Dubai. Options under consideration include other Boeing sites and outsourcing some work, he said.
"All this will be done within the context of the commitments that we have made with respect to timing and rate," Conner said on the eve of the Dubai Air Show. "Those will be the fundamental drivers."
The machinists union voted against an eight-year contract extension last week that would have cut benefits while keeping 777X work in Washington state's Puget Sound region. Shifting manufacturing of Boeing's bestselling wide-body airliner elsewhere would be a blow to future aircraft production in the Seattle area, where Boeing was founded in 1916.
"It is not to say Puget Sound is completely out," Conner said, although no further discussions with the union are planned. Boeing has time to make a decision about finding a production home, with the composite wing the pacing item, he said.
Conner said Boeing has sites with composites expertise capable of building the wing. Co-locating the work in Japan, where the 787 wing that is also made of the light-weight material takes place, is also an option, he said.
The choice of site will be contingent on numerous factors, Conner said, including production capacity, technical skills and the local the tax regime.
Before it's here, it's on the Bloomberg Terminal.
LEARN MORE